Reading Eagle (October 1, 1940)

WALLACE HITS G.O.P. RECORD
…
Says Republicans Make Many Promises, But Will Deliver Little
…
Sacramento, Cal., Oct. 1 (AP) –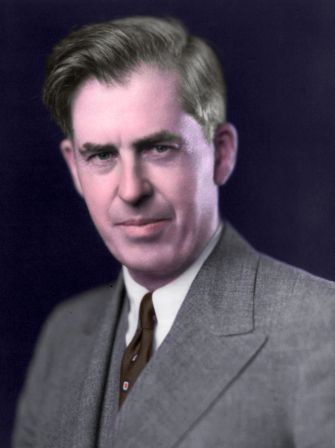 Henry A. Wallace, Democratic vice presidential candidate, swung into the agricultural Pacific Northwest today after telling Californians that "powerful financial interests" in the Republican Party promised much but would deliver little to the nation's farmers.
President Roosevelt's running mate stuck mainly to benefits brought to California and the nation by New Deal farm measures in his northern California talks before entraining for Portland, Ore., where he speaks tonight.
The Iowan said:
Our national income is up $30 million a year, since this administration began its work, a neat profit on our public activities for promoting prosperity.
But earlier in the day like Republican presidential candidate Wendell L. Willkie two weeks ago, Wallace made his San Francisco platform a sounding board for matters of international concern.
Sees Gloom If F.R. Loses
A Roosevelt defeat, he asserted, would cause "great rejoicing among the totalitarian powers and gloom among the democracies." It would "impair our friendly relations with Latin America" at a time when "the name of Roosevelt has become a symbol of democracy and of the Good Neighbor Policy."
"We all know what Hitler's attitude is toward Brazil," Wallace told the Non-Partisan League of Women Voters in San Francisco. "We cannot give the crouching panther a chance to spring."
Wallace wound up his day of brief appearances at Santa Rosa, Napa, Oakland and San Francisco with the address, broadcast in the West, in Memorial Stadium here.
He credited the Roosevelt program with saving agriculture from possible "disaster" and asserted that the G.O.P. was quick to trade promises for farm votes, "but they are not the farmers' friends when it comes to action. The record proves it."
The Republican standard bearer, if I understand him correctly, agrees that our Democratic farm program has been pretty good, for amateurs, and that in fact it needs only to be perfected and streamlined under his experienced hand.
Willkie, he emphasized, was "forced to admit the soundness and success" of the New Deal farm policies.
Points to G.O.P. Vote
Yet 70-82% of the Republicans in Congress voted against the program, he pointed out. Wallace followed up with the report that California farm producers had received $70,000,000 in AAA benefits in the last seven years and that crop loans aggregated about $21,000,000.