Reading Eagle (October 6, 1940)

THE WORLD THIS WEEK
THEN CAME WALLACE
Over almost the identical route taken by Republican presidential nominee Willkie last week stumped Democratic vice presidential nominee Wallace this week.
The question remains: Can he (Willkie) do what he says? Does he understand the meaning of a democracy that is for the people and not just for the leader of finance?
He tickled a Mexican-American crowd at Albuquerque by switching from English to Spanish.
In Oregon, stronghold of his popular rival, Senator McNary, he conceded that such Republicans as McNary "are not a bad lot" but made exceptions for those who are "hooked up with big financial interests in the East."
Willkie's Pledge
Eastward, Mr. Willkie had no sooner completed his junket from Rushville, Ind., to White Plains, N.Y., via San Francisco than he was off on another, shorter, one through Midwestern and Eastern industrial areas.
The themes he reiterated during the week were that the New Deal has kept the form but not the substance of democracy, and that it's "playing politics with preparedness."
Its power to reelect itself in 1936 and its attempt to reelect itself in 1940 is built upon…blank checks…made by Congress.
As for himself, he offered: "I pledge a new world." He promised it will be "better to live in than any world which anyone has imagine so far…an effective, an expanding, an impregnable democracy."
In Michigan, for the first time during his campaign, critics extended hostilities beyond heckling. An egg splattered against his car – and onto Mrs. Willkie's lap – in Pontiac. In Detroit, missiles were hurled at him from an 18th floor when he entered his hotel. A metal wastebasket injured a bystander. The hurler was said to be a woman federal worker.
F.D.R. called such acts thoroughly reprehensible, suggested that the woman should lose her job, and that she be prosecuted.
Farley's Omission
The G.O.P. reported that 14 leaders of organized labor had endorsed Willkie. Most of them were from the AFL building trades. They included William Hutcheson, boss of the carpenters.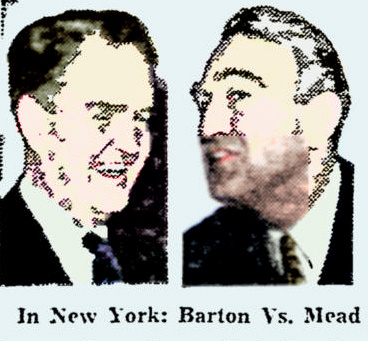 In crucial New York state, both Republicans and Democrats held lively conventions. The G.O.P. picked handsome, wavy-haired Rep. Bruce Barton, author and advertising expert, to run for the Senate. His opponent, Democrats decided, would be young New Deal Senator James Mead. State Democrats Chairman Farley presided but neglected to put in a plug for his former boss, F.D.R.