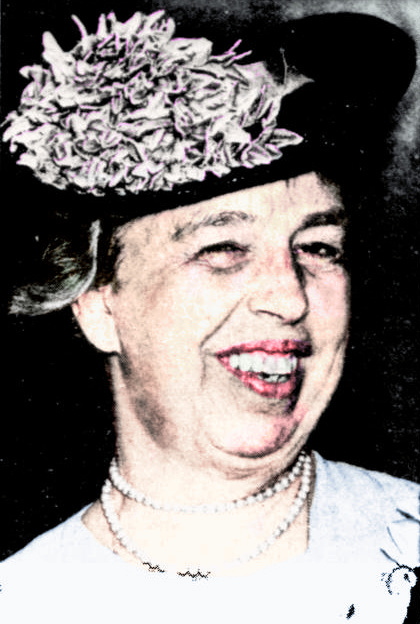 MY DAY
By Eleanor Roosevelt
September 1, 1941
Hyde Park, Sunday –
Yesterday was a very busy day. I had a picnic and guests at lunch and again at supper. The noon picnic was very small and included the children who are here; Diana Hopkins, Elliott Jr., and Chandler. The evening one had a much larger group.
In the afternoon we had the annual Roosevelt Home Club Celebration on Mr. Moses Smith's lawn. After our newspaper contingent had returned from Poughkeepsie and filed their stories, they came back, and together with our office force, we ate all our picnic supper at my cottage. This has become an annual affair on Labor Day weekend, and is almost the only time I have a chance to greet all those who work so hard during their journeys up here with the President.
Tomorrow is Labor Day, which I always think one of the most significant holidays we have. It shows how much we think of the dignity of labor when we mark it by a national holiday. There is no one who believes more strongly than I do that play and rest are important in life, but above and beyond everything else, work must be to us all the phase of our lives for which we are most grateful. To have a job, to do it as well as you are able, is perhaps the main satisfaction in life for most people.
I wonder how many people know that the statue of the "Minute Man," which is used on our defense bonds posters, was done by the sculptor, Mr. Daniel Chester French, who did the great marble Lincoln statue in the Lincoln Memorial in Washington, DC. Perhaps it would interest you to know a little about the making of this statue, since the story is told to me by the sculptor's daughter, Mrs. William Penn Cresson. She writes:
The young sculptor borrowed from the art museum a large plaster cast of the "Apollo Belvedere," which he set up on one side of his studio, and on the other side he placed a long full-length mirror, in which he surveyed his own not unattractive form. And there he made his "Minute Man."
The dedication of the statue on the 19th of April, 1875, was a very great occasion in the little town of Concord, Mass. It was one of those bitterly cold days that we have so often in the New England spring. More people were said to have died from the effects of that cold, than had died on the day of the battle they were celebrating.
President Grant and all his Cabinet came from Washington for the unveiling. Longfellow and Lowell marched in the procession. George William Curtis was the orator of the day, and orated for more than two hours in the cold. Emerson read his poem written for the occasion, the lines of which were cut on the pedestal of the statue.
---
September 2, 1941
Hyde Park, Monday –
Yesterday, Mr. and Mrs. Jay Allen, and Mr. and Mrs. Eric Knight lunched with us. It was an extremely interesting occasion. We sat far into the afternoon talking, and then visited the library. Later, I took Mr. and Mrs. Vinton Chapin, who spent the weekend with us, up to see Mrs. George Huntington. Mr. Chapin has been in Dublin, Ireland, with our Minister and Mrs. David Gray, and I knew Mrs. Huntington would enjoy some word of the Grays as much as I did.
Having so many grandchildren myself, I am always interested in seeing my friend's grandchildren. Mrs. Huntington has two who flew all the way from Honolulu for a visit with her. They are certainly attractive children and I think she must be very proud of the way in which her son and daughter-in-law bring them up, for their manners at the ages of one-and-a-half, and three-years-old, are quite impeccable!
I have had a little time the last day or two to go through the numerous reports which have been sent me. Among them, I found a pamphlet prepared by the Michigan Historical Records Survey Project. This particular one was compiled by Negro workers and is an inventory of the records of all Negro organizations and of the holdings, chiefly family papers, of many individuals.
They have searched the manuscript holdings of the Burton Historical Collection of the Detroit Public Library. Mr. John C. Dancy Jr., whose calendar of correspondence is given in this publication, by the Reverend John Miles, chairman of this particular group, has contributed something of value to his race through his cooperation and preservation of this valuable and historic correspondence.
I have had protests from various people because I wrote in this column some time ago, that certain islands and their populations, off the coast of Maine, were remote. It has been pointed out to me quite firmly that one can reach any part of Maine today very easily, and that by air it is only three hours from Bangor, Maine, to New York City.
Everyone realizes, I think, how easy it is to reach Maine resorts both in winter and in summer for sports of all kinds. I was thinking about something very different. It happens to people in big cities, or out on the plains of the Midwest, or along the coasts of the Atlantic or the Pacific. Sometimes it happens on real islands, sometimes on the islands of the mind. People become remote from the stream of world affairs and are forgotten, and, themselves, forget the rest of their fellow men.
---
September 3, 1941
Washington, Tuesday –
We arrived in Washington this morning to find it fairly cool, and my daughter-in-law Ruth and I are both delighted. How spoiled one can become when the state of the weather really makes any difference in one's morning outlook. As a matter of fact, both of us were thinking far more about the things we had to do, and how much easier it is to do them when the thermometer does not register 95 degrees in the shade, with corresponding humidity!
I had an appointment this morning with Dr. Valiera Parker, who then went to see Administrator McNutt. I also spoke with Dean Russell to discuss his meeting, which is to be held here tomorrow on the subject of citizenship training for aliens. This meeting will be attended by the state directors of education and many others.
I am shocked to find through some of the clippings which have come to me, that my answer to a press conference question last week, as to whether I was satisfied with the volunteer participation in civilian defense, seems to have caused a complete misunderstanding of my attitude. I answered truthfully, that I was not satisfied with the civilian defense participation. But that was no criticism, as it was apparently taken to be, of Mayor LaGuardia, because I am sure he is not satisfied either!
How could any of us be content when the organization is just beginning and will never be complete until every man, woman and child in every community throughout the nation, feels that in one way or another, they are contributing to national defense?
Secondly, I find that certain groups of women think that I do not believe in the participation of women in national defense. I can hardly understand how this misconception took place, because I have wanted women to take their place in national defense long before the government machinery was set up.
I felt strongly that, while it was well to take up any training available, it was better not to set up programs which could not later be easily incorporated with whatever arrangements were made through government channels. I believe that there is work to be done by every man, woman and child in the country. Some of us can take training which will make us useful in ways that are closely related to military work. Others, many more probably, can devote themselves to improving the life in their own communities.
This is a very important part of national defense, for it is this life in our own communities which makes national defense worthwhile. If it is a good life and meets our needs, and we know our neighbors are cooperating to achieve better conditions, then any sacrifices we make to preserve what we have and to attain what we hope for, are cheerfully made, and are part of the duty which we recognize as citizens in a free democracy.
---
September 4, 1941
Washington, Wednesday –
Last night, we saw a very beautiful movie, a documentary film The Forgotten Village, written by John Steinbeck, with music by Hans Eisler. It is the story of a boy in a small village in Mexico and shows the life of the village, the superstitions which still exist, and the bad sanitation. It portrays the gathering of the family round the fire in the evening, the birth of a new baby, the selling of the corn which is the basis of life, a festival and a death in the family.
Finally, the young Mexican leaves his village, because the local schoolmaster has brought knowledge and inspiration to such of the youth of the community who are open to new ideas. The boy will return trained to lead his people to a better life.
I was tremendously interested in the medical trucks which go over almost impassable roads to serve the people in these remote villages. That rural medical service seems to me of great importance. Mexico is doing something which we could well study, for we need to improve our own services in many ways.
Some of the young people of the International Student Service, who were with us in Campobello last summer, were here last night. Since two of them came from Seattle, Wash., they brought another Seattle friend, so I am beginning to gather up quite a number of young acquaintances whom I shall want to see when I visit my daughter this month.
Some of these young people are starting to hitchhike back to college and look upon it as a real adventure. They have, of course, definite destinations, but hitchhiking gives them a chance to see unexpected places and make new acquaintances. Instead of being merely a journey, it is an exciting and unpredictable experience.
This morning, I had a press conference and several appointments before a group of young friends came to meet my daughters-in-law, Mrs. James Roosevelt and Mrs. Elliott Roosevelt, at lunch.
Dean William Fletcher Russell, of Teachers College, Columbia University, is holding a meeting here in the White House this afternoon to discuss a program of education for the great group of aliens who are to become citizens of our country during the next few years. It is an important undertaking and will mean a great deal in improving the quality of citizenship they are able to bring to their new home.
I hope a great many women throughout the country will be celebrating Jane Addams' birthday on September 6. Miss Addams served humanity so well she should never be forgotten. Anyone who knew her, will remember the inspiration of her presence, but her spirit went far beyond the individuals who knew her. It affected the thinking and living of people all over the world.
---
September 5, 1941
Washington, Thursday –
I have a request from a man on a Charleston, SC, paper, who suggests that it would be well on September 13, the 127th anniversary of the writing of our national anthem, "The Star Spangled Banner," to emphasize the fact that this is a national anthem. It should, therefore, be sung by every man, woman and child whenever it is played anywhere in the country.
I think it is a grand idea, but may I suggest that if it is going to be done, someone will have to transpose this national anthem of ours so as to make it possible for those of us with little or no voice to sing it.
It is quite true that no song really inspires the people unless the people sing it. I agree heartily with this gentleman that if we are to create a feeling for the song, which translates itself into emotional patriotism, then every individual must sing it. There is nothing like mass singing to move people.
Yesterday, we spent a quiet evening and I was able to accomplish a great deal at my desk.
I have had two long letters from Franklin Jr., who is somewhere in the Atlantic Ocean, and has been for several weeks. They are interesting, though he is allowed to say nothing about his whereabouts.
This morning, I had an early breakfast and left by plane for Pittsburgh, Pennsylvania. A busy day lies before me, which includes a press conference, lunch, visit to a housing project, opening of an NYA center, reception for a group of Democrats and speech this evening at the Mosque, all before another plane trip to New York City tonight.
A letter from Texas tells me that the Governor has proclaimed "Texas Children's Week" from September 7 to September 13. I wonder whether this would not be a good program to inaugurate in all the states of the Union. The proclamation reads in part as follows:
Whereas progress has been made in Texas during the past few years in bettering the conditions for children within its boundaries, but what has been accomplished is just a start towards the completion of a program of adequate care for all children to give them a chance to become good citizens and take a responsible place in their respective communities… We hereby declare that a free people by conscious effort and thoughtful planning can make certain that all the needs of their children can be met.
This is done to carry out the recommendations made by the White House Conference in 1940 on children in a democracy.
---
September 6, 1941
New York, Friday –
One never realizes beforehand what a busy day really means! My plane was late in leaving Washington yesterday morning for Pittsburgh, Pa., so I was a little late all through the day. It made me feel like a small dog chasing his tail.
It was a very pleasant day, however, and I particularly enjoyed my visit to the NYA resident center. Two months ago, when I first promised to go there, they told me that the buildings did not look as though they would ever be finished. The boys were informed of my visit, and volunteered to give extra time in order to show me more when I arrived. They did extraordinarily well. The shops were ready and they were busily at work in them, and they also showed me a very complete dormitory and mess hall.
Their only lack is a recreation building. Each dormitory has some small space, which can be used by a very few boys at a time for writing letters or a game of table tennis. There is not space enough for indoor recreation as yet.
The chief joy of this resident center is its location on top of one of the high hills with a beautiful view in every direction. I asked one of the boys working in the radio section if he was enjoying this opportunity and his answer was:
Indeed I am, and I gained twelve pounds, if that's any sign of progress.
Just as we're leaving, the blackest clouds gathered and before we reached the housing project, it was raining in torrents. The ceremony there was spoiled by the rain, but some of us gathered in the high school auditorium and I was able to give the keys of their houses to a number of people. Most of them are young and are starting out in these new homes, which are among the first to be completed in the defense housing program around Pittsburgh. The mills are expanding and they will be able to destroy some of their old slums, so a few people at least will have an opportunity to live under better conditions.
We were so late in reaching the reception held by the Democratic women, that I just went up on the platform and made a little speech. Finally, I returned to my hotel with an hour to dress and eat dinner before the evening speech and forum, which was being held under the auspices of the Public Affairs Committee, a nonpartisan organization interested in education for citizenship.
At 11:37, we reached the airport, only to find that the plane to New York City was cancelled because of bad weather. This meant a dash back to the city to the station and a train trip, which landed me in New York City this morning rather later than I had intended starting my day.
---
September 8, 1941
Hyde Park, Sunday –
An anxious 24 hours culminated a little before noon today in the death of my husband's mother. Had she lived until the 21st of this month, she would have celebrated her 87th birthday. One can have none of the resentment which comes when death cuts short a young life, but she was a very vital person with a keen interest in living and I think had she had a few more years vouchsafed her, she would have lived them with keen avidity and enjoyment.
She was born in the year 1854, brought up in a large family and endowed with the Delano beauty. She sailed to China on a clipper ship, as well as to Europe on the most modern of today's steamers. Her early experiences were picturesque and interesting.
Her life was a rich, full life. She had seen her only son inaugurated as President of the United States three times, and she still felt that her husband was the most wonderful man she had ever known.
I think her family, both in her own generation, and in the younger generation, would say that her strongest trait was loyalty to the family. She had no hesitancy about telling her near and dear ones their faults, or criticizing their behavior, but if any one else in the world were to attack a member of her family, she would rise in their defense like a tigress. Whatever the family did, in the end, she accepted and condoned before the world, no matter what her private feelings might be.
She was a very generous person, not only to her own family, but to many others. She was charitable, but I think she enjoyed even more giving to those whom she knew had once enjoyed a little more financial leeway than might be theirs today, and who would therefore prize some little luxury.
She would give away large sums of money and save small ones. The President's mother always attributed her little economies, like undoing string and folding wrapping paper for future use, to her New England upbringing. She was not just sweetness and light, for there was a streak of jealousy and possessiveness in her where her own were concerned, but when others were bored, she would be kind and had the gift of making all those around her feel that the word "grande dame," was truly applicable to her.
She wanted her son to live up to high standards of character and conduct, and never believed that he failed in this. She spoiled her grandchildren perhaps a little, but they had great affection and respect for her. I think even some of her great-grandchildren will remember her when they grow up, as a very beautiful, stately old lady who loved them and made them feel that Hyde Park would be their home as long as it was hers.
---
September 9, 1941
Hyde Park, Monday –
Yesterday Jimmy and Rommie arrived here. Elliott flew from Washington, DC, but he had to fly back in the afternoon because of a military report which he had to give this morning. He and Ruth will be able to return here later today. Johnny and Anne drove over from Boston yesterday, and Ethel will arrive this afternoon.
Anna and John telephoned from Seattle, Wash., but my husband urged them to wait and come later when he could see a little more of them. He feels that a trip just for the funeral from that distance would give him more sense of anxiety, and that he would need them more a little later on.
Of course, Franklin Jr. is somewhere in the Atlantic and cannot possibly be here. I imagine he will get the news over the radio for as far as I know there is no other way of reaching him.
There is nothing in the way of a diary which I can write that people cannot duplicate in their own families, so I think I shall go back today and tell you some of the things I did last week, which I was unable to tell you about yesterday.
On Friday, in New York City, I went in the morning to see a portrait which a young artist had painted for Mr. Liberman, the President of Arnold Constable and Company, to add to the collection of portraits of inauguration gowns, which Mr. Liberman already has. Considering the fact that this portrait was painted entirely from photographs, except for what the artist could observe in a five minute talk with me last spring, I think the young man did remarkably well.
Most of Friday was spent getting things straightened out in the 65th Street house, with a brief interlude for lunch with Dr. Snavely. After lunch, I went to look at the market baskets, which the Camp Fire Girls have been working on as a project this summer. These baskets contain the food for a well balanced meal for four people at the price of one dollar. They presented me with their recipes for cooking this meal. I was glad to see this group of interested and active Camp Fire Girls.
In the evening I took Jimmy and his wife, and three other people, to see Ethel Barrymore in The Corn Is Green. It was the second time I had seen the play and I enjoyed it as much as I did the first time. Miss Barrymore's acting is very moving in the last scenes.
We had a beautiful drive up Saturday morning, and I arrived at Hyde Park just a few minutes after the President arrived from Washington.
---