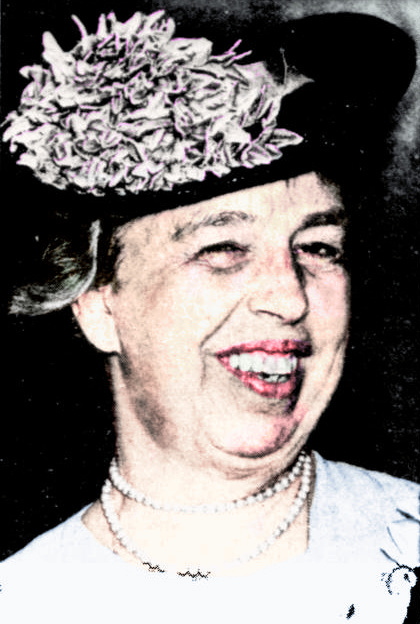 MY DAY
By Eleanor Roosevelt
October 2, 1939
New York, Sunday –
I have paid two visits to the New York World's Fair since I have been in New York City, and I really feel that I have seen a good deal. I have been through the Federal Building again and each time I find it more interesting than the last. I saw the General Motors show that gives one visions of the possible discoveries which may be made in the next few years in the fields of science. I think it is probably the most encouraging thing that I have seen, for, in pointing out how the first telephone was received and then explaining what we know about certain scientific facts and how little we really understand them, the vision of what may lie before us must come even to the most unimaginative. Great fields of new employment lie open to our young people if our scientists are able to delve further into the mysteries which lie all about us in the universe.
A fitting climax to this show is to walk through what is supposed to be a New York City street of 1892, lighted by gas, with shops and houses of that period and the cobbled streets. I understand that the young man who arranged it is English, and that explains the fact that I felt I was walking in an English street rather than in one of the streets of my childhood in this country. However, this makes no difference in the illumination of the change that has come in this short period.
The Eastman Kodak show, with its beautiful colored pictures, must put ambition into every photographer and shows one what charming pictures lie all about us.
Mr. Hungerford, in his "Railroads On Parade," has created a delightful pageant. Here again it seems incredible that such changes have come about in such a short time. We would hesitate to consider the first tiny sailboat safe in the Hudson River… I think the thing that amused me most was the train that was drawn by horses because the engine was delayed in arriving. The Pennsylvania engine was not very polite to us, and we were almost as wet as though we had been out in the rain when it finally reached its station in front of us!
Friday night, I went to see The Philadelphia Story with Katharine Hepburn. It is a most entertaining play, but I cannot help feeling that even a sophisticated, disagreeable child could be as odious as Dinah. Perhaps Mr. Barry, the author, had to point her up in this manner, and perhaps there is no need for sticking to reality so long as you get your point across – but to me she seemed a very unreal phenomenon. We had a delightful evening and I think Miss Hepburn and all the cast do so well that this play deserves its great success.
Last night we saw Billy Rose's Aquacade Show out at the Fair and it is so delightful that it should not be missed by anyone. We watched the fountains from the French Pavilion during dinner and the colors seem more beautiful to me each time I see them.