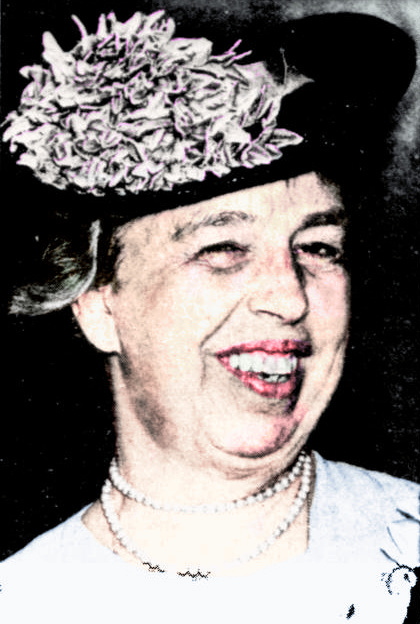 MY DAY
By Eleanor Roosevelt
November 1, 1941
New York, Friday –
I arrived in Washington early this morning and Dr. Harriet Elliott, who is in charge of the Consumers Division, came to breakfast with me. Later I had a brief talk with the President, who left at 2:00 today for Hyde Park. I spent the rest of the morning at the Office of Civilian Defense. I felt we had cleared a number of things satisfactorily, but I came away with an armful of mail, which I have carried with me to New York City, and which I shall have to send back tonight.
The news of the torpedoing of one of our destroyers off Iceland was the first thing that the President spoke of this morning, and that has cast a shadow over the whole day. I cannot help but think of everyone of the 120 men and their families, who are anxiously awaiting news. When this is translated into terms of a specific destroyer on which your own child is serving, it makes it seem a very close and personal anxiety. I want to tell each family how much my thoughts are with them in these trying hours.
I spoke last night in New York City at the tenth educational conference of the American Council on Education. This conference is sponsored by the Educational Records Bureau and Cooperative Test Service, the Committee on Measurement and Guidance of the American Council on Education, and the Commission on the Relation of School and College of the Progressive Education Association.
This dinner session was devoted to the consideration of morale in the national emergency. I think their last ten years' emphasis on the individualization of education and the practical aspects of guidance in student adjustment, has a great bearing on morale at the present time.
Professor Ralph Barton Perry of Harvard, delivered a most interesting and able address and I enjoyed my evening very much. Just before the speaking began, I realized that I had left the key to my house in my day bag and was, therefore, locked out, for my maid is away on her vacation. Dean and Mrs. Hawkes, who took me home, were very kind and disliked leaving me until I found a way to get in.
I had telephoned, to ask a friend, who has a key, to meet me, but I was earlier than I had expected. The policeman told me the caretaker in #47 was home. It took some time to awaken her, but finally she appeared. I found the door open between the two houses and was able to get in and dress and pack and start on my way to the station.