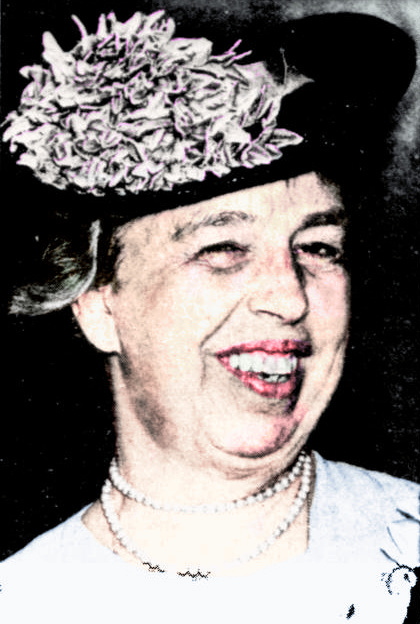 MY DAY
By Eleanor Roosevelt
May 1, 1940
Washington, Tuesday –
I have just met with as heartrending a group of people as it has been my misfortune to see in a long time, very largely a colored group, though some white women were among them. They came to tell me of their hopeless situation and I can best describe it by telling you one woman's story.
She was laid off WPA last August and has a bedridden mother, a sister and a nephew living with her. She lived until January 4 by begging and borrowing and then was put back on WPA. The tears stood in her eyes when she told me she was laid off again and had an eviction notice and was to appear in court tomorrow morning. Two months rent is due and, even by attempting to rent out some rooms, she cannot meet the payments.
In the District of Columbia, there is an understanding in the Public Assistance Bureau that no employable person may be given relief, for they have only $900,000 to take care of their 2,000 unemployable people and rents in the District are high. The cut has come on WPA and people have to be laid off, and what is going to happen to them? How would you meet their situation?
Yesterday morning, I came in very early by train from my day in North Carolina and a good part of it was devoted to a meeting between members of youth serving agencies and youth led agencies. We have met several times before, but on this occasion we decided to put in a long day to discuss the problems which seem most important to the entire group – jobs and unemployment.
I think the meeting was of value because it brought out many facts. One gentleman asserted he had heard such divergent facts, he found it difficult to decide where the truth lay. This is in itself a gain, for at least we know that when we have accepted certain things as truth and been rather comfortable in accepting them we may have been wrong. It will lead us to explore the disagreeable statement, which may turn out to be the truth.
During a recess, Miss Ida Pruitt brought me a soft and beautiful Chinese silk scarf, made by a group of women in a cooperative started by Madame Chiang-Kai-shek. Later in the afternoon, a young Chinese woman who is studying designing in this country, brought me a lovely Chinese gown made by her own hands. Finally, Mr. and Mrs. Russell W. Jelliffe came to tell me about a most interesting development which they have fostered.
Today, I began with a meeting of the Arthurdale, W. Va., Advisory Committee. Then, I opened my series of broadcasts and went to my annual lunch with the Girl Scouts in their practice house. This year, the girls from 10 to 14 years of age prepared and served the luncheon, and it was beautifully done.