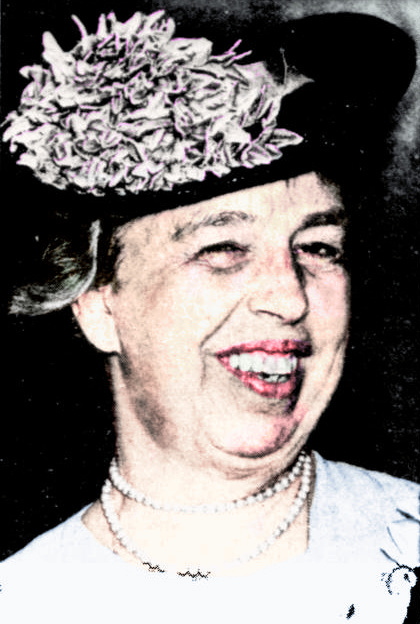 MY DAY
By Eleanor Roosevelt
March 1, 1940
Golden Beach, Fla., Thursday –
I have just finished Mary Ellen Chase's book A Goodly Fellowship. It was given me last Christmas, so you see how long it takes me to get at the books I really want to read. I have always enjoyed Miss Chase's books, which deal with Maine people, because I know the coast of Maine and love the land and its people. Dawn in Lyonesse is another of her books which I could reread many times. In A Goodly Fellowship, she traces her own teaching and, at the same time, tells much about those who taught her.
Teaching and being taught are always inextricably woven together, for there is really no better way of learning than to try to teach. Miss Chase's conception of the good teacher agrees with my own, and that is one reason why I enjoyed this book so much. She feels that you must really love your subject before anyone can derive much from you as a teacher. I particularly like the picture she drew of ex-President Neilson of Smith College. I have met him and instinctively have always liked him, but this gives me the reasons for my liking. In his closing address to the students when he left Smith, he quoted the following words, which I think all of us will do well to remember. A great scholar, after enumerating the worthy desires of many men's hearts, said:
All these things are good and those who pursue them may well be soldiers in one army or pilgrims on the same eternal quest. If we fret and fight one another now, it is mainly because we are so much under the power of the enemy. The enemy has no definite name, though in a certain degree we all know him: he who always puts the body before the spirit, the dead before the living; who makes things only to sell them: who has forgotten that there is such a thing as truth, and measures the words by advertisement or by money; who daily defiles the beauty that surrounds him and makes vulgar the tragedy; whose innermost religion is the worship of the lie in his soul. The Philistine, the vulgarian, the great sophist, the passer of base coin for true, he is all about us and, worse, he has his outposts inside us persecuting our peace, spoiling our sight, confusing our values, making a man's self seem greater than the race, and the present thing more important than the eternal.
There appeared just before luncheon yesterday, a very charming young lady to stay the night with us. She flew over from Cuba and left us again this morning. Martha Gellhorn is always to me an exciting person with whom to talk. Her articles which appeared in Collier's on Finland, gave as good a picture of what is happening there as any foreign correspondent's material that I read. She has seen so much in Europe firsthand and felt it as only a really good writer can. I enjoyed every minute of our talk.
Now she has gone back to what sounds like a most charming spot in Cuba, even if, from her own account, the conveniences of life are a little difficult to achieve.
Another heavenly day and I grieve to have my time here draw to an end.