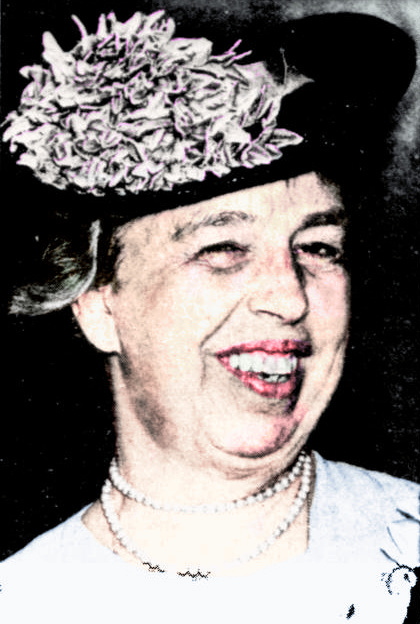 MY DAY
By Eleanor Roosevelt
December 1, 1941
Washington, Sunday –
Did I tell you that I went Christmas shopping for toys the other day? This is always the most delightful kind of shopping. The thing which impressed me most was, that in spite of the present period when everyone's mind is turned to wars and rumors of wars, there was only one small section in which there were war toys; soldiers, forts and tanks.
In many other ways the toys seemed to be more ingenious and constructive than usual. I felt that the campaign, which had been carried on so long against giving children miniature implements of war, was finally bearing fruit. I hope so, for I feel that the reality does not need to be brought home to children in their play.
I spent a most delightful day yesterday at the Army-Navy football game. I had some pleasant young people as companions on the train. The game was one of the best I have ever seen and both teams were so good I wanted to applaud all the players for their skill and good sportsmanship. The day was beautiful and I never remember seeing a football game with so little discomfort.
On my return in the evening, I went to one of the sessions of the institute being held under the auspices of the Washington Bureau of the International Student Service. The speakers from Brookings Institute and the Division of Price Stabilization of the OEM were both extremely interesting. Dr. M. L. Wilson, of the Department of Agriculture, is talking to the entire group this afternoon, and I hope to have the pleasure of hearing him also.
I have received a suggestion from one of my correspondents, that an appeal should be made to friends and relatives of the men in the services, to write to them on regular days, so that they will not feel that they are forgotten by those at home. I think this is particularly important when our men are stationed in faraway places like Hawaii, Guam, Puerto Rico, the Virgin Islands, Iceland and Newfoundland. They get such a feeling of being cut off, that they concentrate more on a desire to come home than on doing a good job. We, at home, could probably do a great deal to keep them from such loneliness.