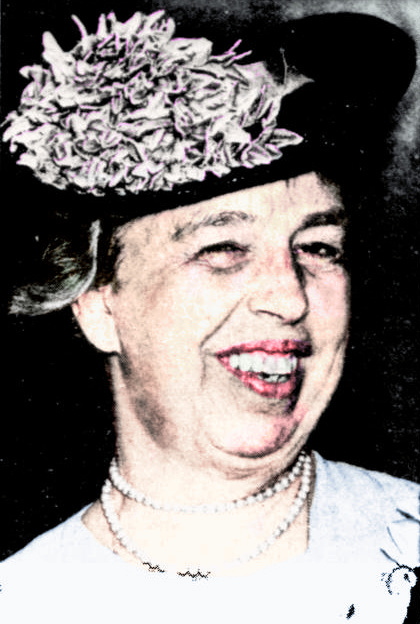 MY DAY
By Eleanor Roosevelt
April 1, 1940
San Francisco, Sunday –
Yesterday was a nice day. Miss Thompson came in by train from Chicago. We had a birthday celebration at lunch with all who had been together a year before when Johnny Boettiger arrived in the world. He sat in his high chair next to his father and a cake with white icing, lighted candles and "Happy Birthday" written on it, was carried in and put before him. We drank his health and made wishes on his candles, which obediently blew out at the proper time. Then his father cut the cake and his mother handed him the first piece. It had been baked by Katie, who can make angel food cake that melts in your mouth. Johnny looked at it doubtfully for a minute, but after one taste he tried to put the whole piece in his mouth at once. It required a napkin and a bowl of water to wash him clean again afterwards, but Sis and Buzz and all of us had a splendid time watching him enjoy his first party.
Afterwards, Anna, Tommy and I took a walk and really enjoyed seeing the spring. Forsythia, cherry and apple blossoms, shrubs and little plants were flowering in the woods we walked through. We could look across the lake and see white capped mountains in the distance. It was the kind of day that made us feel that Seattle would be a perfect place in which to live.
An early dinner, and then all of us went to the opening of the home show, which is sponsored by the Seattle Post-Intelligencer with other civic and commercial organizations. It was a finer show than the one I saw last year and big crowds were on hand for the opening. I enjoyed it very much, for I am always interested in all the things which improve our homes.
Afterwards, I read an article about two Seattle boys who have established a research bureau of their own to look into employment possibilities, and was interested to find that some of the products which I noticed especially last night were spoken of as opportunities for new jobs.
The floods in northern California made us come as far as San Francisco by air this morning. When I looked down at the country I could see the great damage which these floods have done. In many cases trees and houses seem to be surrounded by lakes, and fields are completely hidden under water. They tell me that a plan is under way which will take this excess flow down into the San Joaquin Valley, where it is sorely needed. I hope the plan will soon be an accomplished fact.
We left our family regretfully and the skies wept with us. We could not grieve for long, however, for we were anxious to see how Miss Thompson would like her first flight in five years. Luckily, she enjoyed it. Now we are in San Francisco for a few hours and will resume our trip to Los Angeles by train this evening.