The 'Ultra' interception detailing Rommel's intentions reached Montgomery on 25 February. Ronald Lewin in his Ultra Goes to War: The Secret Story claims that the code-breakers had thus 'intervened with devastating effect'. In reality the Allies were already aware that Rommel was retreating from the Western Dorsale since they had reoccupied Kasserine Pass without resistance on the previous day; air reconnaissance had revealed the German movement in any event; and Monty's Chief of Intelligence in Eighth Army HQ , Brigadier Williams would inform Nigel Hamilton that from his knowledge of 'how Rommel would behave', he was absolutely certain that such an attack was coming: 'You didn't need "Ultra" to know that this was going to happen.'
Nor was the news in any way welcome to Montgomery for, despite his previous cheerful 'wet hen' signal, he was really far from happy about the situation in which Eighth Army was now placed. He 'frankly admitted to me,' says de Guingand, 'that for once, through his action to assist First Army, he now found himself unbalanced.' Half his army – 10th Corps – was still at Benghazi and his nearest reserve division, 2nd New Zealand, was 200 miles from the front line reorganizing in Tripoli. No wonder that he feared for Eighth Army's forward units and that when the danger had passed he would tell de Guingand that he 'had sweated a bit at times!'
The real credit should therefore be given to Eighth Army's administrative staff who performed the brilliant feat of rushing substantial reinforcements to the front over a single inadequate road, which luckily was well protected by the Desert Air Force. On 28 February, the tanks of 2nd Armoured Brigade arrived at Tripoli from Benghazi on transporters. They were at once sent on to 7th Armoured Division at Ben Gardane, where they were handed over to its 8th Armoured Brigade. The Valentines of 23rd Armoured Brigade were also moved up to the battle-area, as were 2nd New Zealand Division, 201st Guards Brigade and as many additional anti-tank guns as could be found. By the evening of 4 March, a 'period of great anxiety', as Montgomery calls it in El Alamein to the River Sangro, had passed.
'Rommel,' adds the Eighth Army Commander, had 'missed his opportunity', yet it should be noted that while 'Ultra' had warned Eighth Army of Rommel's general intentions – and in any case, as already seen, Eighth Army 'didn't need "Ultra" to know that this was going to happen' – it had revealed neither the date nor the direction of Rommel's thrust. Eighth Army's Intelligence staff deduced from more orthodox means – chiefly air reconnaissance – that the date would be after the 3rd and before the 7th of March, but as Nigel Hamilton relates: 'Not until the Axis formations emerged from the mist on 6th March 1943, did Montgomery know for certain the line of the enemy attack.'
For that matter, the line of the enemy attack was not even decided until 3 March. The flurried improvisations on the Axis side, while having the unintentional advantage of concealing the plan from 'Ultra', form indeed a sorry contrast to the calm, sound and extremely thorough preparations made in a very short space of time by Eighth Army. Nor were the attackers helped by disputes between, or belated changes in the identity of, the men who were to lead them.
When Rommel was promoted to the command of Army Group Afrika, he handed over his old Panzer Army Afrika, now renamed First Italian Army, to General Giovanni Messe. Ronald Lewin in his history of the Afrika Korps, calls Messe 'an excellent, experienced, if stolid commander', and like many of the later arrivals in North Africa, he had gained that experience in Russia, where he had led an Italian Corps with sufficient ability to be awarded a Knight's Cross by Hitler. Yet this was hardly an easy time for a new man to take over, and his task was made still less easy by his Chief of Staff, Bayerlein, now a major general, retaining direct and complete control over all German units. The Afrika Korps was originally entrusted to Ziegler, but on the day before the battle, he was replaced by Lieutenant General Cramer. While that officer was well suited for this post – he was a former commander of 8th Panzer Regiment from 15th Panzer Division – it was an odd decision to remove a leader of Ziegler's calibre on the eve of an encounter which Rommel, in his own words, believed would be of 'decisive importance for the defence of the whole Tunisian bridgehead'.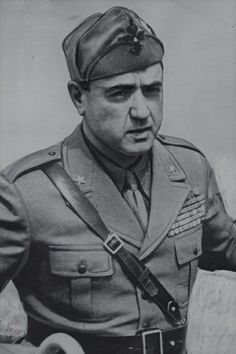 General Giovanni Messe , new commander of former Panzer Army Afrika now retitled as 1st Italian Army
Rommel's initial desire was for a direct attack from the north-west down the main road from Mareth to Medenine. On 3 March, a reconnaissance in force in this area drove back 51st Division's outposts but also revealed that the defences were very strong, 'heavily mined and covered by many guns'. Rommel's subordinates were also afraid that a tank attack from the north-west would have no room for manoeuvre and so be an easy target for the British artillery and the Desert Air Force. Finally it was felt that paths for the tanks would first have to be cleared through the Germans' own minefields protecting the Mareth Line and this would prevent any chance of attaining surprise. Faced with this opposition, Rommel reverted to his mood of sulky pessimism. He withdrew from any further role in planning the assault, being content to demand 'the utmost commitment from every soldier' participating therein.
The panzer commanders therefore planned a sweep round Eighth Army's defences in order to attack these from the west and south-west out of the Matmata Hills. By one more irony, this decision did enable them to achieve complete surprise. Montgomery, who at Alam Halfa had agreed with his Intelligence staffs assessment because it fitted in with his belief as to how Rommel would act, and who at Alamein had anticipated that Rommel would deliver those impulsive counter-attacks which proved so beneficial to Eighth Army, had once again correctly predicted Rommel's personal intentions. He was convinced that Rommel would wish to advance down the road from Mareth. Even when his airmen reported movement in the Matmata Hills on the afternoon of the 4th, he considered that this was a feint to divert his attention from the real point of attack.
This error could have had serious consequences, for the Axis onslaught was potentially a formidable one. A subsidiary thrust was to be made down the Mareth-Medenine road by a force called 'Column Bari' under Graf von Sponeck, containing his 90th German Light and the Italian Trieste and La Spezia Divisions. The main assault was due to come from the west against a small but steep hill known as Tadjera Khir which dominated Eighth Army's western defences. This assault would be the responsibility of Cramer's Afrika Korps, with the sixty tanks of 15th Panzer on the left and the forty-six tanks of 21st Panzer Division on the right. Meanwhile the thirty-five tanks of 10th Panzer, supported by detachments from 164th German Light Division , would strike from the south-west directly towards Medenine, and 3rd and 33rd Reconnaissance Units, as at Alam Halfa, would provide the extreme right flank of the turning movement; they were to block the road from Medenine to Foum Tatahouine to prevent reinforcements arriving from this direction.
The attack was to be supported by as much Axis artillery as could be brought to bear, including a number of the new six-barrelled 150mm mortars which the Germans called 'Nebelwerfers' but the British 'Moaning Minnies', and which were vastly superior to anything of a similar type on the Allied side. The Axis air forces would also take part in the attack, and they had about 100 German and sixty Italian warplanes serviceable. Moreover the Stukas, ME 109s and Macchi MC 202s had now been joined by a Gruppe of Messerschmitt Me 210 fighter-bombers, which for the sake of convenience may be described as much improved successors to the Messerschmitt Bf 110s, and a Gruppe of the very latest German Focke-Wulf Fw 190 fighters. In addition the Axis cause would be much assisted by the fact that poor weather conditions over the Allied airfields would considerably handicap the Desert Air Force.
As at El Agheila and Buerat, Eighth Army in the coming action – it would be known as the Battle of Medenine – had only Leese's 30th Corps on hand. This again contained three divisions: 51st Highland, 2nd New Zealand and 7th Armoured Divisions. Admittedly 7th Armoured was exceptionally strong, for it consisted of 8th Armoured Brigade, 22nd Armoured Brigade, 4th Light Armoured Brigade and 131st Motorized Infantry Brigade, with 201st Guards Brigade also temporarily under command – another example of that integration of the Army which by now was accepted as a matter of course. In consequence, as its critics never tire of pointing out, Eighth Army was still superior in men and material.
Yet such superiority in the past had scarcely guaranteed victory: it should not be forgotten that Rommel had had only 2,500 infantrymen at the start of the Battle of Mersa Matruh (26-28 June 1942 ) when Panzer Army captured 6.000 prisoners and huge number of enemy supplies while Messe had 10,000 at Medenine; it should not be overlooked that Panzer Army Afrika had won 'Battle of Second Ruweisat' (during Battle of First Alamein in July 1942) with forty-two German tanks of which only eight were of a calibre comparable to any of those used by First Italian Army at Medenine; it should not be ignored that Eighth Army, as General Jackson rather unkindly remarks, had 'about half the equipment which the Americans possessed in Tunisia' – the difference being that it was made up of 'experienced troops'.
What decided Medenine in fact was neither the numbers of nor the weapons in Eighth Army, but the quality of the soldiers behind the weapons and of the commanders who led them. Montgomery, as Liddell Hart remarks, had made 'the most of his ability for planning a well-woven defence' and despite his confidence that the attack would come from the north-west, he had not neglected the defences in other areas either; the hallmark of his preparations was always their thoroughness. He had for instance appreciated the crucial importance of Tadjera Khir, and de Guingand relates a visit to this key hill by Montgomery, Leese and their staffs which might have had tragic consequences. The position was well within range of German heavy artillery to the west, and as the party descended it was spotted by the enemy. 'The Army Commander,' (Montgomery) says de Guingand, 'was in the middle of a discussion with Leese when a shell landed very close to our path. It had no visible effect on him whatsoever; there was not even a pause in his conversation.'
On 6 March 1943, therefore, the Eighth Army's positions were secure at all points. From the coast the front line moved gradually south-westward along the Wadi Zessar which had been strengthened by 70,000 mines and behind which the bulk of 51st Highland Division had taken its stand, supported by the eighty Valentines of 23rd Armoured Brigade. Then the defences turned south, continuing for 16 miles in all along the western edge of the ridge which carried the Mareth-Medenine road, the angle between the northern- and western-facing defences being strongly held by 51st Highland Division's 154th Brigade plus a number of additional anti-tank guns. On the left of the Highlanders was 131st Brigade, then 201st Guards Brigade holding Tadjera Khir, and finally 2nd New Zealand Division guarding the approaches to Medenine.
The defenders' main weapons were their anti-tank guns, some 460 of them, mostly 6-pounders though there were still a number of 2-pounders in this total and also a few brand-new and extremely formidable 17-pounders which went by the innocuous name of 'Pheasants'. Moreover, so confident were the men of Eighth Army and so far had the fear of the panzers evaporated, that for the first time the anti-tank guns, in the words of the Official History, were 'sited to kill tanks and not to "protect" infantry, field-guns or anything else'. Not that the artillery was negligible either for Eighth Army had 350 field or medium guns which, as General Jackson tells us, were 'centralized under 30th Corps' control to ensure concentration of fire on important targets'.