The Pittsburgh Press (August 26, 1941)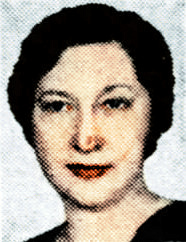 GOD AND WAR
By Mrs. Walter Ferguson
I do wish we could leave God out of our wars. If not to mollify Him, at least to preserve our sense of sanity.
The report of an eyewitness to the mid-ocean meeting of Churchill and Roosevelt said:
On Sunday morning, the President and his staff escorted by 200 of the Augusta's sailors journeyed to the Prince of Wales for church services. The services on the forward deck of the huge battleship composed an impressive scene, with the war vessel's 14-inch guns lowering over the deck as the masses of officers and men sang "Onward Christian Soldiers," and "Oh God, Our Help in Ages Past."
In the moving pictures of this historic event, the huge guns dwarf into insect significance the men gathered there to observe the religious amenities. Do you believe their prayers can rise higher than those guns?
I think the war we are preparing to fight may be necessary – at least it now seems inescapable, but I am still reluctant to join the movement to dress it up in sacred garments. If we must set forth to slaughter our fellow mortals, let us do so as sinful but honest men, not as hypocrites crying out for aid to the source of all goodness.
The individual soldier must be strengthened and uplifted by prayer – I believe sincerely that God walks by his size and that the everlasting arms cradle him wherever he fights. But armed nations commit a sacrilege when they pronounce God their ally, and ask His help for material ambitions.
We may expect to lose many precious possessions in World War II – let us hold fast to God if we can. We could afford to sacrifice everything provided we kept our faith in human dignity, integrity and goodness.
Somehow, I can't help but feel that we will win better victories if we face honestly the truth about war – it is an evil, man-made enterprise with which our churches should have nothing to do, since those churches are the caretakers of our spiritual treasure, for the sake of which we believe the world might well be lost.