The Pittsburgh Press (August 19, 1943)
By Frank Hewlett, United Press staff writer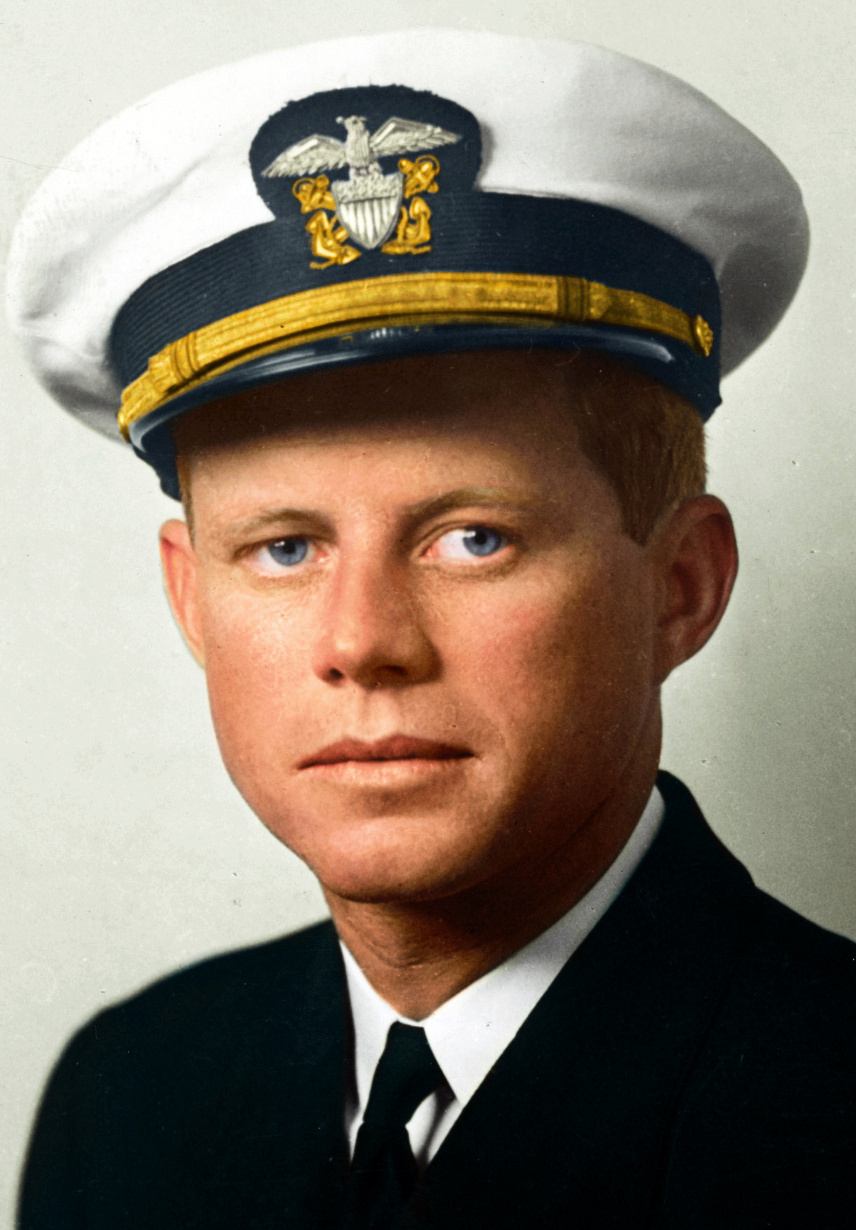 Lt. Kennedy
Somewhere in New Georgia, Solomon Islands – (Aug. 8, delayed)
The luck of the Irish – and some first-class skill – brought lanky Lt. (jg.) John F. Kennedy, son of former U.S. Ambassador to Britain Joseph Kennedy, and 10 of his torpedo boat mates back from a brush with the Japs and death today.
A week after they had been lost and practically given up, another PT boat went through hostile waters to rescue them in response to an SOS scrawled on a coconut shell and carried through enemy lines by a native.
Three men, including Petty Officer Patrick H. McMahon, 39, of Los Angeles, who has a son in the Navy, credited the 27-year-old Lt. Kennedy with saving their lives.
Their extraordinary adventure began the night of Sunday, Aug. 1, in Blackett Strait just west of Kolombangara Island north of New Georgia Island.
Three torpedo boats from this base were patrolling. A Jap destroyer bore down on the lead boat commanded by Lt. Kennedy and manned by a crew of 12 and cut it in two.
Lt. Kennedy said:
I'm certain that destroyer was going 40 knots. I summoned the crew to general quarters and then tried to get into position for a shot with the torpedoes. But we were too close.

The crewmen were flung into the water. Some were painfully injured.

The gasoline went up in flames. One section didn't burn.
Petty Officer McMahon, who was badly burned, said Lt. Kennedy, a backstroke swimmer on the Harvard team before he graduated in 1940, towed him three miles.
Lt. Kennedy said:
We clung to that bow of the boat for nearly 12 hours. And we left it only when it was just a foot above water.
They drifted through the night nearer and nearer a Jap island that had a big garrison but a sudden shift in the current saved them and they reached a tiny unoccupied islet. But they were still surrounded by Japs.
After a few days, they sneaked over to another island and found friendly natives. Lt. Kennedy scratched an appeal for aid on a coconut shell. A native carried it through the enemy lines to this base.
Last night, in a PT boat, under one of the original expendables, Lt. Henry J. "Hank" Brantingham of Fayetteville, Arkansas, we went through rough weather into the Jap-controlled waters to pick them up.
Lt. Kennedy rowed out in a native canoe to meet us. He had told us to fire four shots, then he'd answer. We fired four shots. Only three came back through the darkness near the rendezvous point – then silence for a moment. Then came a louder burst. He had only three cartridges in his .45 caliber pistol. The last shot came from a rusty Jap rifle and the recoil nearly capsized the canoe.
Two trips in the canoe were necessary to bring all the men out to the PT boat.
Lt. Kennedy guided us through reefs and coral heads, in constant danger of being seen by enemy planes.
Among the men was Ens. Leonard Thorn of Sandusky, Ohio, a blond giant with a new beard whom the natives had thought a man from another planet. Ens. Thom used to play football at Ohio State. The other officer with Lt. Kennedy was Ens. George Henry Robertson Ross, 25, of Highland Park, Illinois, who went along for the ride because his own boat was temporarily out of whack.
Lt. Kennedy lauded the work of Petty Officers Charles Harris, of Boston, and McMahon. His other men were Seaman Raymond Albert, 20, of Cleveland, Ohio; Radioman John Maguire, 27, of Hastings-on-Hudson, New York; Torpedoman Ray L. Starkey of Garden Grove, California; Petty Officer Gerard Emil Zinser, 25, of Belleville, Illinois; Petty Officer William Johnston of Dorchester, Massachusetts, and Quartermaster Edman Mauer, 28, of St. Louis, Missouri.