Show Shops —
'DICTATOR' AT WARNER ON OCT. 25
…
House Announces Reserved Seat Premiere
…
By Kaspar Monahan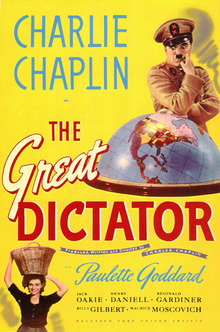 Charlie Chaplin's The Great Dictator, the film on which he has been laboring for three years, will have its local premiere Friday evening, Oct. 25, at the Warner Theater.
As in New York where it will be given its world premiere next Tuesday at two theaters, The Great Dictator will be shown at advance prices – 75¢ in the afternoons and $1.10 for the evening performances. The latter scale will be charged for the first-night performance when all seats will be reserved. Thereafter, the movie will be shown continuously.
In The Great Dictator, Mr. Chaplin will be seen as a character mistaken for Hitler because of his exact resemblance to the Nazi boss while Jack Oakie will do a take-off on Il Duce.
Since first word of Chaplin's plan to make his antic jibe at the power politicians, speculation has boiled and brewed as to how far he dared to go with his nose-thumbing. Then, when the film was completed, many commentators, myself included, wondered if he dared to release it – in view of Hitler's shocking and incredibly swift trampling of half a dozen nations.
Apparently England's stout stand has made up his mind for him – so at last we are to see the fruit of three years' toil and expenditure of some $2,500,000. Two weeks from this Friday, we'll learn whether it was worth it and whether it is possible to laugh at the man who, as this is written, is showering death and carnage on mighty London. Well, if any man can make us laugh at Hitler, that man is Chaplin – and I suspect that once again he has produced a masterpiece of comedy.
He talks in this one, too – for the first time. In his last Modern Times, he did mouth a few words in an absurd little song – not words actually, however, just gibberish.