The Pittsburgh Press (January 31, 1944)
By Maxine Garrison
There's been a terrific to-do – and rightly so – over why the WAC failed to reach its recruiting goal of 150,000. Some civilians, especially two or three extremely voluble Senators, have been prone to blame the shortage of recruits on the WAC uniform, in particular the hat.
WACs themselves have been first to decry this charge. Any girl who was truly interested in being of service, they say, would not let the mere shape of a hat keep her from joining. If she would, she isn't the kind of girl they want anyhow.
More than that, they say stoutly that they like the hat, and they'll defend it against all comers.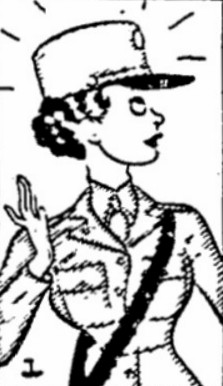 I think the girls are quite right. Any recruit who is scared off by a uniform that doesn't quite suit her ideas of what's what for tea-dancing wouldn't be much use to the organization.
To discuss the matter on that basis alone is to quibble over something that is surely not the deciding factor.
Important job
Personally, I keep wondering if there might not be something to the theory that potential recruits simply do not realize how important it is for the WAC to reach its recruiting goal, how important is the job that each WAC does.
A favorite pastime, especially among men, has been belittling WACs. I hope it is an innocent pastime, not deliberately intended to slur that fine body of women, but even innocence of wrongful intent is no excuse.
The obvious gag, of course, is to tip up the term, "WAC," with the slang phrases "wack" and "wacky." That makes the whole business very comic to certain masculine minds.
The picture has been drawn of girls drilling and "hup-hupping" at an Army post, and the inference made that time was certainly a-wastin'. Another popular picture presents them as party girls, Army butterflies.
Anyone who knows any WACs, or who knows anything at all about the organization, knows how false all this is. But the fact remains that the erroneous impression is all too often the one that's believed.
Drill and train
Of course, WACs drill and train. Much as soldiers do. They are equally subject to Army discipline, after all. And of course, WACs have dates. They take no vow of solitude when they don the uniform. Neither is a discredit to them.
But the important thing is the job they do. Generals and other officers on the field and at home have attested to their efficiency and value.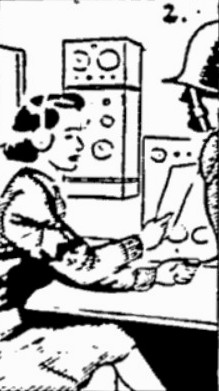 And they are desperately needed. Anyone who knows how the draft boards are struggling to fill their quotas knows that the Army personnel problem is serious. WACs can be a great factor in solving that problem if fewer eligible girls and women shrug their shoulders because of these mistake ideas, and take the trouble to find out just how valuable the WAC's job is.