After the German invasion of Poland, aggressive anti-Semitism found release in "lightning pogroms" (Blitzpogrome), during which so-called Ostjuden were humiliated, abused, and also murdered. In addition to subjecting these Jews to drills and forced labor, the regime's henchmen often mocked them by cutting or burning off their beards – a practice that was later continued during the military campaign against the Soviet Union.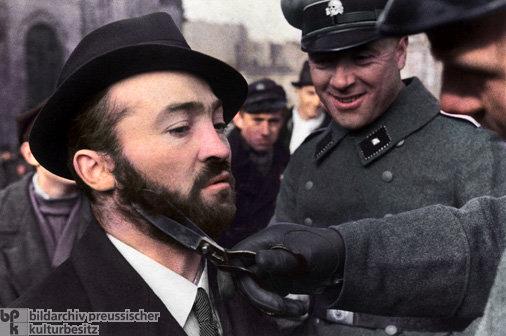 (Photo: Arthur Grimm)
The photograph (I colorized it) shows a member of the Sicherheitsdienst cutting a Polish Jew's beard. It comes from a series of photos of a staged raid by the Security Police in Warsaw.
Courtesy of German History in Documents and Images (GHDI)
http://germanhistorydocs.ghi-dc.org