Since World War 2 is quite notable as when aircraft truly became a weapon of war, I asked Spartacus if I could start some general discussion on aviation topics. Hopefully nothing too controversial or heated.
So to start, opinions (supported if you desire) regarding the "best overall" aircraft of the Second World War. I don't necessarily mean the "best fighter" or "best bomber" or "best nuisance bomber" of the war. But the plane that was most successful, most useful, and most completely represents the war.
I propse that the "best aircraft of WW2" is undeniably the Douglass DC-3, aka the C-47 Skytrain.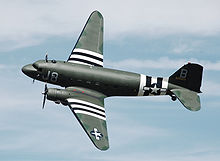 In fact, I'd go so far as to argue the Skytrain (or, if you are in the UK, Dakota) is the most ubiquitous airplane ever. Gen. Eisenhower said it was one of the four battle implements that brought the US to victory. C-47s served in every theater, from carrying cargo over the Hump to dropping paratroopers in Normandy. Even the Soviets and Japanese built versions. Her military carrier didn't end with 1945, but continued into the Berlin Airlift. They've been used continually since the 1930s with just about every nation on earth. The only replacement for a DC-3 is another DC-3, after all.
What say you? Can you think of a better plane?