The Pittsburgh Press (April 28, 1941)
ATHENS IN GERMAN HANDS, COMMUNICATIONS CUT OFF
By United Press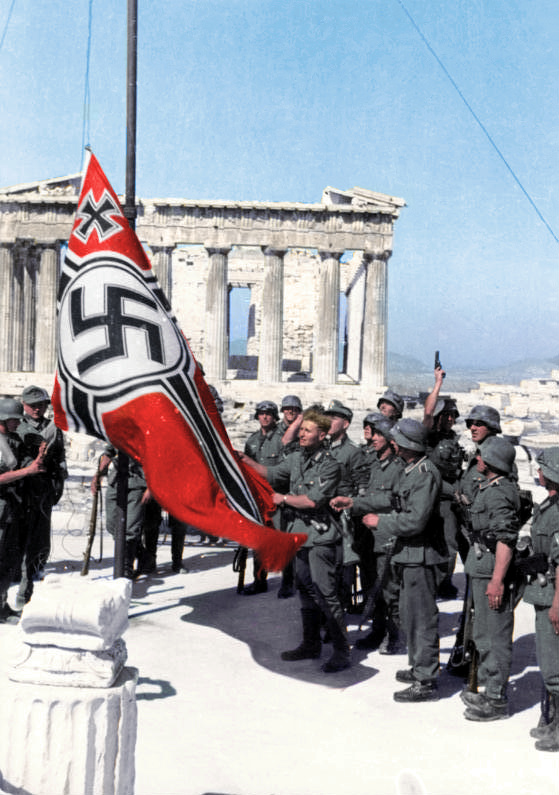 Historic Athens was in German hands today, its affairs, like those of 13 other conquered capitals, clouded by Nazi censorship; its fight for freedom ended just six months from the day Italy started the Greek war.
The last United Press dispatch from Athens was received in New York before dawn Sunday. It read:
German advance guard followed by mechanized units entered Athens at 10 a.m., hoisting the Swastika on the Acropolis.
That was the text of a German High Command communiqué issued a short time later in Berlin.
Thereafter, radio listening posts in New York and London waited in vain throughout the day and night for the Athens station's customary English language broadcasts.
German tunes played
Nothing was heard except at Budapest where the Athens Radio was heard Sunday night broadcasting in German and Greek, dispatches of the official German news agency, and playing German military marches.
The last Athens dispatches before the German occupation had told of a people waiting with "quiet dignity" for the invaders to enter the city where Solon laid down the first principles of democracy in 594 B.C., and where statesmen 2,300 years ago organized the Delphic Amphictyony, an association of Greek communities pledged to protect the Hellenic shrines and mitigate the brutalities of war.
Government fights on
Although their capital and most, if not all, of their army was lost, the Greeks continued the struggle forced upon them by the Italian invasion Oct. 28, and the German invasion April 6.
The government was at Crete, under British protection, and a series of royal decrees were published in Athens Saturday in the name of the refugee King George, appointing Pericles Argyropoulos governor-general of the unoccupied Aegean Islands, naming Manuel Tsouderos temporary war minister and placing General Alexandros Papagos, chief of the general staff, on the retired list "at his own request."
There was also a decree freeing all political prisoners in Crete except those convicted of crimes against the security of the state.