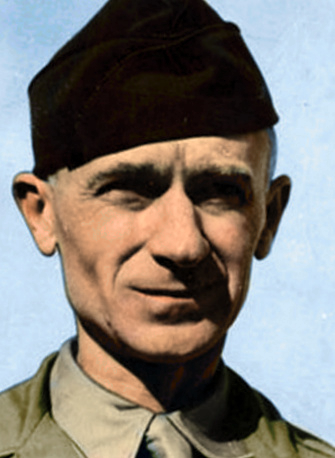 Roving Reporter
By Ernie Pyle
Somewhere in Sicily, Italy – (by wireless)
We had many kinds of human beings among the wounded in our clearing-station tent during the time I spent there.
We had a couple of slightly wounded Puerto Ricans, one of whom still carried his guitar and sat up on his stretcher and strummed on it ever so lightly. There were full-blooded Indians, and Negroes, and New York Italians, and plain American ranch hands, and Spanish-Americans from down Mexico way.
There were local Sicilians who had been hit by trucks. There was a captured Italian soldier who said his own officers had shot him in the face for refusing to attack. There were two American aviators who had been fished out of the sea. There were some of our own medics who had been wounded as they worked under shellfire.
There was one German soldier who had been shot apparently while trying to escape to Italy in a small boat. He was young, thin and scared to death. He objected furiously to being given a shot of morphine, apparently thinking we were torturing him. Then when he discovered he was being treated exactly like everybody else, his amazement grew. You could see bewilderment and gratitude in his face when the ward-boys brought him water and then food. And when, finally, the chaplain, making his morning rounds, gave him cigarettes, candy, toothpowder and soap, the same as all the rest, he sat up grinning and played with them as if he were a child on Christmas morning.
It took him five minutes to find out how to get the cellophane wrapper off his pack of cigarettes, and our whole tent stopped to watch in amusement.
Overboard for blood plasma
Some of the wounded were sick at the stomach. One tough-looking New York Italian, faint with malaria, tried to crawl outside the tent to be sick but passed out cold on the way. He was lying there on the ground in his drawers, yellow as death, when we noticed him. They carried him back, and 10 minutes later, he was all over his sudden attack and as chipper as anybody.
Some were as hungry as bears. Others couldn't eat a bite. One fellow, with his shattered arm sticking up at right angles in its metal rack, gobbled chicken-noodle soup that a ward-boy fed him while the doctor punched and probed at his other arm to insert the big needle that feeds blood plasma.
And while we are on the subject of plasma, the doctors asked me at least a dozen times to write about plasma. They said:
Write lots about it, go clear overboard for it, say that plasma is the outstanding medical discovery of the war.
So, I beg you folks back home to give and keep on giving your blood. We've got plenty on hand here now, but if we ever run into mass casualties such as they have on the Russian front, we will need untold amounts of it.
They say plasma is absolutely magical. They say scores of thousands who died in the last war could have been saved by it. Thousands have already been saved by it in this war.
They cite case after case where a wounded man was all but dead and, within a few minutes after a plasma injection, would be sitting up and talking, with all the life and color back in his face.
The doctors asked me to repeat what you have been told so many times already – that it doesn't make any difference what type your blood is, and that the normal person has no ill or weakening effects from giving his blood.
Doctors work ghastly hours
A frontline clearing station is made up of doctors and men who were ordinary, normal people back home. But here they live a rough-and-tumble life. They sleep on the ground, work ghastly hours, are sometimes under fire, and handle a flow of wounded that would sicken and dishearten a person less immune to it.
They'll get little glory back home when it's all over, but they have some recompense right here in the gratitude of the men they treat. Time and again as I lay in my tent, I heard wounded soldiers discussing among themselves the wonderful treatment they had had at the hands of the medics.
I have written already about some of the enlisted men of this clearing station, so before finishing, I'll give you the doctors' names. This is one of the few clearing stations that are a part of the 45th Division.
The station commandant is Capt. Carl Carrico of 2408 Reba Drive, Houston, Texas. His wife and eight-year-old boy are in Houston. He is a slow, friendly man, speckled all over with big red freckles, who takes his turn at surgery along with the others. He usually works in coveralls.
The other surgeons are Capt. Carson Oglesbee of Muskogee, Oklahoma; Capt. Leander Powers of Savannah, Georgia; Capt. William Dugan of Hamburg, New York, and Lt. Michael de Giorgio of New York.
The station's medical doctor is Capt. Joe Doran of Iowa City. The dentist is Capt. Leonard Cheek of Ada, Oklahoma. And the chaplain is Lt. Arthur Mahr, formerly of the First United Lutheran Church, Indianapolis. Other chaplains of the division are frequently around inquiring for men of their outfits or giving last rites.