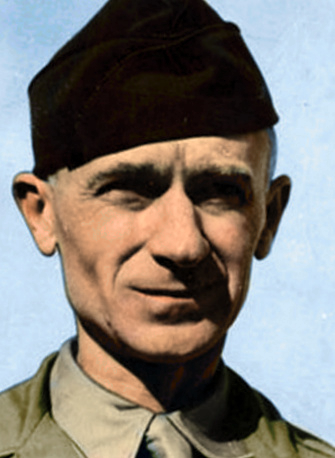 Roving Reporter
By Ernie Pyle
In Tunisia – (by wireless)
When about to go into battle, some men are very introspective and thoughtful. Others carry on as though everything were normal. I remember one night when chow had come up just after dusk and a dozen or so of us were opening tin cans to the tune of constant shellfire. Somebody started singing a parody of some song. Others joined in, and for five minutes there in the night they sang funny songs. A silly feature of that episode is that now I can't remember what we sang.
Another time we were sitting in the darkness on a rocky ledge waiting to start a night march that would culminate in an attack in which some of the men were to die before dawn.
As we sat there, the officers who were to lead the attack got into a long discussion comparing the London and New York subways. The sum total of the discussion was that the London subways were better than ours. After that the conversation drifted off onto the merits and demerits of the Long Island Railroad. The only "warlike" thing about the discussion was that somebody expressed a hearty desire to be riding on the Long Island Railroad that very minute.
Almost like Hollywood
War sometimes gets almost like Hollywood. We had a fantastic example one day.
A company of our troops worked far ahead of us and got pinned down on the far side of a hill. This back slope was almost a cliff. It was practically straight up and down. Our men were trapped there, just hiding behind rocks and on little ledges. The Germans had worked their way up onto a long slope in front of them, and around each and behind them.
The first Hollywood effect was that, although they were completely surrounded by the enemy, we still had telephone communication with them. So, their company commander asked us to start shooting mortars over onto the Germans on the face of the hill.
The happy ending
We set up a battery of mortars and let fly a practice round at the Germans a mile or so away. As the mortars roared, our battery commander said over the phone:
They're on the way, Mac.
Then we'd wait about 30 seconds and Mac's voice would come back:
They went clear over our heads. Bring her down a little.
Thus, with him directing us to right and left, up and down, we kept shooting until our mortar shells were landing smack on the Germans.
Of course, that's the way all artillery is directed. But usually there is an observer on some other hill a mile or so away, watching through binoculars. In this case, our observer was beyond our own falling shells and so close he'd duck down behind his cliff every time they came over. Even veterans where we were had to laugh at the thing. And just as in Hollywood, it had a happy ending. Our shells ran off the Germans and our men were rescued.
Drowsy in the sun
One afternoon Capt. Russell Wight and I were lying in the sun against a bank alongside a dirt road, waiting for some tanks to come past so he could show them where to attack. While we lay there, machine-gun bullets sang over our heads. Once a dozen Messerschmitts dived and bombed hell out of an empty field a quarter of a mile away. And a German tank was whamming 75mm shells into a hillside just behind us with such rhythmic fury that we felt the gunner must be shooting from personal outrage.
But we were quite safe from it all in our ditch behind the hill, and we lay drowsily in the sun as though on a picnic back home.
Capt. Wight is the kind of person I feel at home with. The enlisted men love him more than any officer I ever heard them speak about. He lives in Cambridge, Massachusetts, and he was an executive of a big soap company. His business experience with personnel would fit him for some safer work, but he wound up in the fightingest job in the Army – as an infantry company commander.
On borrowed time
He has no kicks. He is already living on borrowed time, for three times 88mm shells have landed within 10 feet of him and freakishly left him untouched. He had no bad effects at all other than being deaf for about 24 hours. He says he heard no explosions. He says the sensation was that of an enormous bear giving him a sudden hug.
Finally, the tanks came by and the leader got out and talked for a few minutes before going into battle. The young tank commander's boss drove up in a jeep and gave him some instructions. He told him:
If it gets too hot, button up and pray for darkness.
The young tank commander laughed and said that's what he would do. A half hour later he was dead. Capt. Wight and I sat on our hillside and saw it happen.
That is the way it goes. After a while you don't feel too deeply about it. You don't dare to.