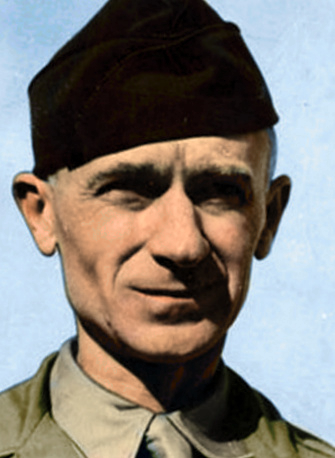 Roving Reporter
By Ernie Pyle
Northern Tunisia – (by wireless)
Much of our Northern Tunisian mountain fighting was done at night, and in the dark of the moon too. It had always been a mystery to me how troops could move on foot in total darkness over rough, pathless country that was completely strange to them. Having moved with them on several night marches, I know how it is done.
The going is just as difficult as I had thought it would be. The pace is slow – one mile an hour in moving up into the lines would be a good speed. The soldiers usually go single file. They don't march, they just walk. Each man has to pick and feel for his own footholds.
Sure, you fall down. You step into a hole or trip on a telephone wire, or stub your toe on a rock, and down you go. But you get right up again and go on. You try to keep close enough to the man in front so that you can see his form dimly and follow him. Keeping your course at night is as difficult as navigating at sea, for it is total darkness and you have no landmarks to go by.
Gremlins move mountains
Captain E. D. Driscoll, of New York, says:
We have gremlins in the infantry too. And the meanest gremlin is the one who moves mountains. You start for a certain hill in the dark, you check everything carefully as you go along, and then when you get there some gremlin has moved the damn mountain and you can't find it anywhere.
Here's how they do these night marches.
At the head of the column are guides who have reconnoitered the route in daytime patrols and memorized the main paths, hills and gullies. In addition, an officer with a compass is at the head of the column, and in case of doubt they get down and throw a blanket over himself for blackout, and look at the compass by flashlight.
Other guides are posted along the line to keep the rear elements from straying off on side paths. Furthermore, the leaders mark the trail as they go. They usually do this by leaving strips of white mine-marking tape lying on the ground every hundred yards or so. On our march they had run out of white tape so they used surgeon's gauze instead. Sometimes they mark the trail by wrapping toilet paper around rocks and leaving them lying on the path.
But still they get lost
In spite of all this, two or three dim-witted guys out of every company get lost and spend the next couple of days wandering around the hills asking everybody they come onto where their company is.
A column advancing into new country strings its own telephone wire. You probably know that Army telephone wire is simply strung along the ground. We are now using very light wire, and even a small person like myself can carry a half-mile reel of it under his arm.
On our first night march, we carried two miles of phone wire with us. At the end of a half-mile reel, we'd contact with a field telephone and call back to battalion headquarters to tell them how far we'd got, what we had seen and heard, and whether there was any opposition. As soon as another half-mile was strung, the phone would be advanced.
The Germans were adept at one tiring up here. That is in digging and camouflaging their gun positions. I know one case where we captured a dug-in 88mm gun while driving the Germans off a hill, and after the battle was over and we came back to get the big gun we couldn't find the damn thing, though it was obviously still right there.
Snipers well concealed, too
Also, they dug in machine-gun snipers on the hillsides and left them there. When the rest of the Germans withdrew these guys would be hidden in the rocky hillsides right among our own troops. After we had occupied the hill, they would fire on our troops to the rear, and generally make pests of themselves. We had an awful time finding them.
I know of two machine gunners who stayed in their little dugouts and kept firing for three days after we had occupied their hill, despite the fact that our troops were bivouacked all over the hillside, living within a few feet of them, walking past or over their gun positions scores of times a day.
They dig a good-sized hole and cover it with the rocks that abound on these hillsides, leaving a little hole just big enough to fire through. They keep a few days' rations, and just stay there until captured. The place looks like any other of thousands of places on the hillside. You can walk past it or stand on it and not know what's beneath us. Once you do know, you find that you can't get the gunners out without practically tearing the rocks out by hand.
One of these smart guys had a circus for three says shooting at me till they finally dug him out. I'll tell you about that tomorrow, as I'm shaking too badly right at the moment.