from wikipedia , The Strength of A Nation-Michael McKernan , TIME LIFE World War II , Tobruk The Great Siege 1941-1942-William Buckhingham
The Capture of Tobruk was a battle fought between 21 and 22 January 1941, as part of Operation Compass , the first British military offensive of the Western Desert Campaign. After defeating the Italians in the Battle of Bardia (3–5 January 1941), the 6th Australian Division and the 7th British Armoured Division pressed on and made contact with the Italian garrison in Tobruk on 6 January. The Italians had fortified Tobruk, their only naval base in Eastern Cyrenaica , before the war but after being routed at the Attack on Nibeiwa , the Battle of Sidi Barrani and the Battle of Bardia the Italian 10th Army had lost eight of its nine divisions and had only the 61st Infantry Division "Sirte" and stragglers in the defence of Tobruk.
The port of Tobruk dated back to at least the Classical period, with the establishment of a Greek agricultural settlement of Antipyrgos on the site in the 7th Century BC. The Greeks were followed by the Romans, who established a border fort for their province of Cyrenaica on the site in the 2nd Century BC, which subsequently became a way station on the coastal caravan route. It was used as a base by Barbary pirates, provided water for elements of Napoleon's fleet en route to Egypt in 1798 and the Italians were careful to maintain control of the port after occupying it in 1911 during their first foray into what was then Ottoman Turkish territory, and for good reason. Tobruk was the best deep water anchorage between the Egyptian port of Alexandria over 400 miles to the east, and Sfax in Tunisia over a thousand miles to the west. More importantly from a 1940 perspective, Tobruk offered the best port facilities along the 300 miles of coast between Benghazi on the Gulf of Sirte and the Egyptian frontier. This fact was highlighted by Churchill in a Directive to the CIGS on 6 January 1940, which pointed out that possession of Tobruk's port facilities would significantly reduce the strain and necessity for road transportation from Alexandria.
By 1940 Tobruk had developed into a fairly large garrison town and naval port with a floating crane capable of handling several cargo vessels simultaneously, and a large naval fuel storage plant. The non military military part of the town was grouped around the Piazza Vittorio Emmanuele, and boasted a town hall, a bank, three hotels and a combined restaurant and cabaret. The Italian inhabitants' spiritual needs were catered for by the Catholic Church of St. Francis, a mosque ministered to the needs of the indigenous 'Moslem Italian' population, and secular education was provided by the Scuola Benito Mussolini. The town infrastructure included a hospital, a coal-fired power station and a refrigeration plant. Water came from a number of sub-artesian wells and a water distillation plant, augmented with large amounts of Rocoaro brand mineral water imported from Italy as an alternative to the brackish liquid from the wells. Finally, an imposing three-storey structure, variously described as either a Fascist Party or naval headquarters, was under construction on the headland overlooking the town.
The garrison barracks accommodation was provided for 10,000 men and a number of protected shelters and store rooms for ammunition, fuel and supplies for the garrison had been burrowed into the solid rock of the northern headland. Defensive points , fortifications and bunkers were more numereous than Bardia (139 of them) , defensive belts and minefields were several like Bardia supported by a wide anti tank ditch and razor wire obstacles BUT garrision number (25.000 soldiers) were not enough or sufficiently strong to support and defend entire defensive perimeter. This would prove to be a fatal weakness. On top of that Tobruk just like Bardia was isolated both from land and sea and totally besieged. No reinforcements were coming for Italian garrison and both RAF and Royal Navy began severe bombartment from air and sea after 6th January , causing severe damage and lowering garrison morale.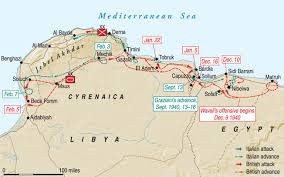 On the morning of 5 January 1941, while Australian forces were still mopping up the southern cauldron at Bardia, General Wavell Commander in Chief of Middle East Theater ordered 7th Armoured Division to advance west, pass Tobruk and cut it off. By 6 January the brigade had reached El Adem (now Tobruk Airport). By 7 January the bulk of the British forces had arrived and cut off Tobruk. The 19th Australian Brigade group placed itself opposite the eastern defences of Tobruk and the 16th Australian Brigade group took over on the western side. The 4th Armoured Brigade moved to the west of the city, the 7th Support Group blocked the western exits and the 7th Armoured Brigade screened the force from interference from the west. With the collapse of Bardia, General Wavell ordered General Richard O'Connor to keep Operation Compass moving towards Tobruk. With its small but deep harbour and water distilleries, this town had to be captured to support any advance further west towards Benghazi and Tripoli.
Meanwhile Marshal Graziani informed Mussolini that the 34 mi (54 km)-long Tobruk perimeter was manned by only 25,000 men with 340 guns, a number wholly inadequate for the task. On 9 January, Graziani informed the garrison commander, 72 year old General Enrico Pitassi Mannella, that there would be no attempt at relief. Graziani ordered General Tellera to fall back with the 60th Infantry Division "Sabratha", his last division, to a line between Derna and Berta , while directing the Babini Group (Special Armoured Brigade) to Mechili. After being informed by Graziani that he was on his own Mannella had the bridge at Sidi Daud on the Bardia road and the bridge at Wadi es Sahel on the Derna road destroyed.
General Pitassi Mannella organised the artillery into three groups, two for the Eastern Sector with 123 guns and one for the Western Sector with 97 guns. In addition Two Regia Marina Royal Italian Navy shore batteries had twin 120 mm (4.7 inch /40 naval guns and two mobile heavy guns. Plus an Italian light cruiser San Giorgio moored up at Tobruk harbor and immobile due to prior battle damage (she was bombed and damaged badly at Tobruk harbour by RAF on July 1940 ) could support defence.
With no air reconnaissance, Pitassi Mannella was unaware of the British artillery positions and as most British artillery had a longer range than the Italian artillery, mostly of First World War-vintage there, was little chance of effective counter-battery fire.
Inside Tobruk perimeter Italian garrison commander General Pitassi Mannella had thirty-two L3/35 tankettes and thirty-nine M11/39 tanks, only seven of the latter were operational and in three weeks of attempts to repair the M11/39s only three were serviceable enough to move in an engagement. Pitassi Mannella had received no spares or fuel for the tanks and had the lightly armed and thinly armoured L3/35 and the M11/39s buried in the sand as strong points.
After surrounding Tobruk, WDF (Western Desert Force) had exhausted the ample Italian supplies captured at Capuzzo and Sollum; O'Connor directed that the supplies flowing through the port of Sollum (350 long tons (356 t) per day in early January and 500 long tons (508 t) daily late in the month) to the 10th and 11th Field Depots he had set up about 43 mi (70 km) east of Tobruk. Coastal road from Bardia to east (Via Balbia) was further developed. Besides a short seaborne supply link from Mersa Matruh to Bardia harbour by using small vessels and coasters was established. Concerned mostly about not having enough fuel and supplies for the offensive after the fall of Tobruk, General O'Connor delayed the attack to accumulate more supplies. As the 7th Armoured Division had suffered more losses than the 6th Australian Division so far , O'Connor decided that the Australians would lead the attack.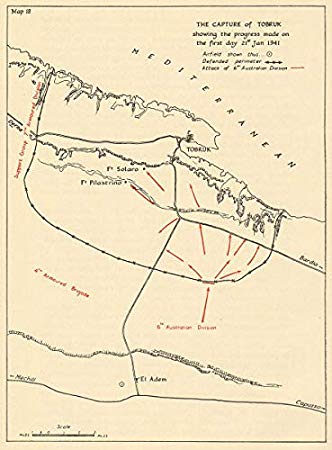 From midnight to 2:00 a.m. on 21 January the Royal Navy monitor HMS Terror and three smaller ships bombarded Tobruk, while Royal Navy destroyers waited further out to attack Italian cruiser San Giorgio , if the crew tried to escape. For the rest of the night RAF Wellington bombers attacked port installations, defensive positions and drowned out the sound of the British tanks assembling for the attack. 17th and 19th Australian Infantry Brigades would use captured maps of Tobruk (captured in Bardia ) to plan their initial attack and focus their assault on a weak sector on eastern side of perimeter where a blind spot among field of fire would prevent Italians to concentrate their firepower effectively.
At 5:40 a.m. the British artillery opened fire along the entire line, concentrating on an area about 2,187 yd (2,000 m) by 766–875 yd (700–800 m) rectangle where the sub-sectors A and B of the Eastern Sector met. Under cover of night Australian sappers and the British artillery-fire cleared a path through the thin Italian minefield in the area , engineers filled anti tank ditches for 7th Armored Division tanks to follow through infantry advance and blew up Italian wire obstacles under fire by using Bangolore torpedoes and at first light the 2/3rd Australian Battalion attacked. Within the hour the Australians had created a breach 1 mi (2 km) wide. At 7:00 a.m., 18 [Matilda II tanks passed through the breach, three of which veered left with the 2/3rd Australian Battalion, while another three veered right with the 2/1st Australian Battalion to expand the breach. At the same time, the rest of the Matildas advanced with the 2/2nd Australian Battalion towards Tobruk. The first unit to be overrun by the 2/2nd was the Italian CV/25th Artillery Group, which had no time to lay their guns for direct fire before they were overrun.
The lack of radios of the Italian units proved to be a severe disadvantage; telephone lines had been cut by the British aerial and artillery bombardment and General Pitassi Mannella only received notice of the British attack at around 8:30–8:45 a.m. from a despatch rider. Like in Bardia Italian defensive reaction was mixed. Some bunkers and trenches fought stubbornly but several more surrendered by showing white flags and handkerchiefs after a brief Australian infantry and British tank assault. By 9:10 a.m. the Australian 2/2nd Battalion had reach Sidi Mahmud and the 2/1st Battalion was at Sidi Daud; the 17th Australian Brigade with the 2/6th Australian Battalion and 2/27th Australian Battalion had captured the Italian artillery positions between the two points. By 10:30 a.m. the Australians had overrun four of the Italian strongpoints and destroyed six of the ten artillery groups in the area. At 8:30 a.m. the 19th Australian Brigade supported by A Squadron of the 6th Australian Division Cavalry Regiment had set off and towards the 4th Tank Infantry Regiment. The Australian brigade was supported by 78 field guns, which moved in turns 219 yd (200 m) forward every two minutes and reached vital Via Balbia at 09:40 hours. Australian lead company received severe Italian machine gun fire from left flank of Via Balbia. These machine gun positions were swiftly dealt with a bayonet charge and grenades by Australians under support of a creeping barrage. The 19th Australian Brigade struck the III Battalion, 69th Italian Infantry Regiment, which was quickly overrun. By 09:00 AM total of 21 Italian bunkers and defensive outposts had fallen to Australian advance. A Bersaglieri company and three M11/39 tanks that tried to plug the gap in the second line were defeated within minutes, the three M11/39s being knocked out by British Matilda tanks and Royal Horse Artillery anti tank guns. Meanwhile two RAF bomber groups with Wellington and Blenheim bombers were constantly hitting Italian strongpoints ans other targets and British artillery continiously engaging their own targets and counterbattery fire. British artillery fire , counter batery action and creeping barrage were so effective that Italian artillery was complately shocked and silenced. On nearing the harbour, the infantry seized a series of concrete dugouts, and found a most welcome prize – the fortress artillery headquarters, including General Barberis and his staff.
By 11:50 a.m. General Pitassi Mannella had informed Graziani that the Eastern Sector had been destroyed and only isolated positions held out. All Graziani could do was to send three Italian CR.30 fighters to Tobruk, which the RAF fighters quickly shot down.
At 4:00 p.m. the 2/8th Australian Battalion attacked Fort Pilastrino position which was found mostly abandoned by Italian garrison except rearguard which gave up after a short firefight, while the 2/4th Australian Battalion had reached and surrounded the Italian headquarters at the abandoned Fort Solaro by the evening. General Pitassi Mannella and his staff retreated into the cellars but by 6:30 p.m. Pitassi Mannella ordered his staff to surrender. According to war correspondent Chester Wilmott an Australian private who witnessed surrender hundreds of Italian troops getting out of their bunkers to give themselves muttered himself : "For God's Sake , even Tel Aviv police gave us more trouble to us than these"
At the same time the 6th Divisional Cavalry Regiment had reached the outskirts of Tobruk but then been stopped by fire from Italian cruiser San Giorgio . Soldiers from the 2/4th Australian Battalion moved down the cliffs and used 3-inch mortars against San Giorgio . Having lost contact with forces outside of Tobruk, Admiral Massimiliano Vietina organised the defence of the harbour with the few men at his disposal. Graziani had denied his request to make a sacrificial attack on the Royal Navy ships outside the harbour and Vietina began systematically to destroy the harbour and its stores. Out at sea the Australian destroyers Stuart, Vampire and Voyager were patrolling west of Tobruk in case the Italian cruiser San Giorgio attempted to break out of the port. They were recalled after reports that their quarry was aground and on fire in Tobruk harbour, and in the process ran into the Italian schooner Diego which was promptly sunk after the ten man crew had been taken off.
22 January
By nightfall half of the Tobruk fortified area had been captured and at 4:15 a.m. on 22 January, Vietina ordered Captain Stefano Pugliese to blow up the magazines of immobile Italian cruiser San Giorgio to deny it to the British. The advance was resumed at dawn on Wednesday Wednesday 22 January, supported by Hurricanes and Lysanders from RAF No. 208 Army Co-operation Squadron, and it quickly became apparent that the fight had gone out of the Italian defenders. The commander of the Sirte Division, Generale Vincenzo Della Mura, surrendered to the 2/8th Battalion near Fort Pilastrino after sending forward an emissary just after first light under a makeshift white flag. The Generale initially refused to hand himself over to a Lieutenant Phelan on the grounds that he was insufficiently senior, but honour was satisfied by the arrival of a somewhat brusque Major Key, Phelan's company company commander.31 Elsewhere an Italian officer was persuaded to order other positions under his command to surrender via field telephone, and the commander of the 2/1st Battalion, Lieutenant-Colonel Kenneth Eather DSO, came upon an a 3,000 strong Italian unit waiting to surrender in parade order complete with packed baggage.
General Iven Mackay ordered a general advance for the morning of 22 January. It was a busy morning, and the road back from the Australian front lines to the breach in the perimeter was soon thick with Italian prisoners, thousands of them, giving every indication that they were happy to be away from these wild men from the south insanely charging at them with death and destruction pouring from their every barrel, and heading towards the comparative safety of an Australian stockade. Rome Radio had been shrieking for days that the 'Australian barbarians have been turned loose by the British in the desert', now that these soldiers had seen the Australians close up, few of them wanted any part of it.
At 8:30 a.m. at Italian Naval HQ , Admiral Vietina surrendered to General Horace Robertson of the 19th Australian Infantry Brigade whose advance scouts reached the port, followed shortly afterwards by General Della Mura, who surrendered with the remnants of the Pilastrino position. At 4:00 p.m. the last strongpoint surrendered and Tobruk had fallen. For Italian stragglers still resisting in town , Australians used a technique called "rabbitting" , basically lighting a mixture of thick crude oil and kerosane at the entrence or around of any building , underground shelter or bunker resisting and use intense smoke to weed out last defenders (a method very effective when dealing out of control rabbit population in wilderness of Western Australia) British armor and Aussie infantry cooperated extremely well. General Iven MacKay commander of 6th Australian Division extremely pleased with 7th Armored Divisions tank support , said every Matilda tank was worth of an infantry battalion.
Australian troops in Tobruk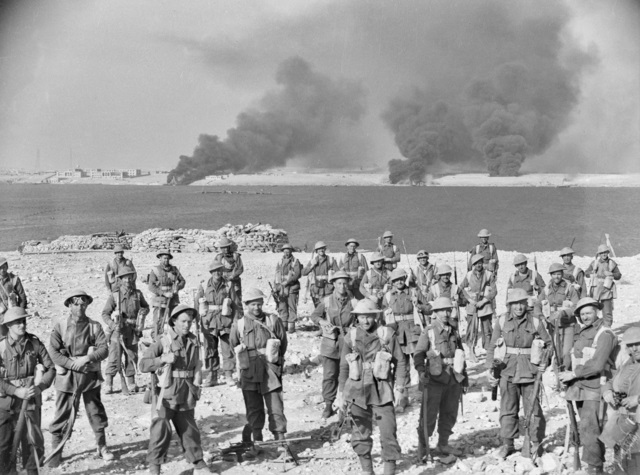 Analysis
Most of the demolitions had been of stores rather than installations , harbour facilities , piers and depots were either intact or repairable in short notice , fuel storage facility was back to functional in a few days by work of British engineers; the Inshore Squadron of the Royal Navy began mine sweeping immediately and opened the port on 24 January. All water wells and water distillation facilities were captured intact by British and Australians. Coal fired power station was also found intact along with 4.000 tons of coal. The water distillation plant located on the south side of the harbour was a priority objective for Australians, and as it lay only half a mile in front 2/11 Australian Battalion position, on 5th January an Australian platoon was despatched to prevent the Italians from sabotaging or destroying it. On finding the plant's defenders enjoying a meal the platoon made them prisoner and despatched them to the rear before finishing off the food themselves and meanwhile securing water distilliation plant (which was capable of providing 40.000 galons of fresh water a day , an important logistical factor in the desert) , a further 10,000 tons of Rocoaro brand mineral water was stored in a harbour side warehouse was also captured. On top of that sub artesian water wells in harbour area were also intact. To Australians delight , countless barrels and bottles of wine and other alcholic spirits stored for Italian officer corps were discovered in captured basements and supply depots and Diggers of 6th Australian Divisions with victory euphoria got quite intoxicated.
According to Peter Fitzsimmons :
As Australians wandered along Tobruk's wide and pleasant streets—the main thoroughfare of which, Via Mussolini, had already been renamed 'Pitt Street' after Sydney's famous main street—and then began exploring among its many white colonial style buildings, what they found was an absolute treasure trove. Grog! Warehouses of it! Tinned food, enough to sustain 25 000 men for two months! Precious delicacies, of Gawd knew what, but she tasted all right! Fancy cheeses! Recoaro mineral water! (Er, whatever that was.) And then there were the silk shirts, the blue cavalry cloaks, elaborate toilet sets in Florentine leather and all manner of a scented kind of hair gunk20 that'd make you think they were either all pooftas, or at least sat down when they pissed! Fair dinkum, some of those fancy officers had more kit—lots of it plastered in gold braid and weighed down with medals from victories unknown—than you could poke a burned stick at. With some of their officers, it was almost as if they were going to a fancy-dress party in what an officer should look like—with such extraordinary efforts going into their appearance and comfort—and also, to judge from the battle just gone, with so very little effort having gone into doing what an officer should do, which is lead."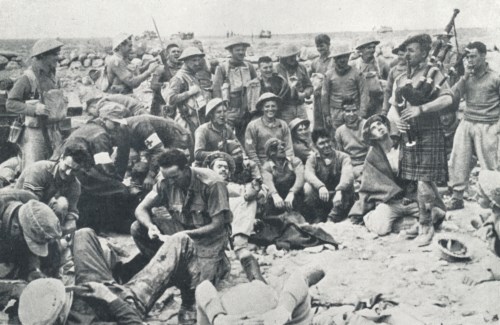 Casualties
The Italians suffered more than 25,000 casualties, 18 officers and 750 soldiers had been killed, 30 officers and 2,250 men had been wounded and more than 22,000 men had become prisoners of war. The British captured 208 guns , 87 tanks , 200 motor vehicles and were able to raise the half sunk Italian cruiser San Giorgio . 13th Corps (the new name of the Western Desert Force) suffered 400 casualties, 355 of them Australian. (off these 49 killed rest wounded)
As it happened, war correspondent Chester Wilmot was standing, chatting, in the Piazza Vittorio Emmanuelle with the Commanding Officer of the 2/6th Battalion, Lieutenant Colonel Arthur Godfrey, when yet one more lot of Italian soldiers were led by, causing the colonel to remark, 'That's about the last of the 25 000. If we'd had 25 000 Australians inside these defences, not even the Germans would have got us out in six months.' (that would be an accurate prediction in a few months)
One thing the Allies couldn't help but notice was that there was never much trouble separating the Italian officers from their soldiers—with each group seeming to have a total contempt for the other—which was perhaps a sign as to why the latter had not seemed so keen to fight for the former. A British gunner recalled how: Thousands and thousands of Italian prisoners came out. They looked pathetic, calling Aqua, aqua (water , water) … In the afternoon we drove through an area we had been shelling and there were lots of Italian bodies lying there. I laughed, more hysteria than anything. You got used to the sight of the dead.
Still the sheer number of Italians was problematic in itself for the vastly outnumbered Australians, who could do little to prevent those inclined from slipping away to join their compatriots to the west. Among these hardier souls was General Annibale 'Electric Whiskers' Bergonzoli, the erstwhile commander of the Bardia garrison who had walked to Tobruk on 5 January , now going back all the way to Derna and Benghazi.