Operation Compass (also *la battaglia della Marmarica) was the first large Allied military operation of the Western Desert Campaign (1940–1943) during the Second World War. British and other Commonwealth and Allied forces attacked Italian forces in western Egypt and Cyrenaica , the eastern province of Libya , from December 1940 to February 1941. The Western Desert Force Lieutenant-General Richard O'Connor with about 36,000 men, advanced from Mersa Matruh in Egypt on a five-day raid against the Italian positions of the 10th Italian Army led by Marshal Rodolfo Graziani, which had about 150,000 men in fortified posts around Sidi Barrani in Egypt and in Cyrenaica.
The 10th Army was swiftly defeated and the British continued the operation, pursuing the remnants of the 10th Army to Beda Fomm and El Agheila on the Gulf of Sirte. The British took over 138,000 Italian and Libyan prisoners, hundreds of tanks, and more than 1,000 guns and aircraft, against British losses of 1,900 men killed and wounded, about 10 per cent of the infantry. The British were unable to continue beyond El Agheila, due to broken down and worn out vehicles and the diversion, beginning in March 1941, of the best-equipped units to the Greek Campaign in Operation Lustre.
After death of Marshal Italo Balbo due to friendly AA fire in June 1940 , 58 year old Marshal Rodolfo Graziani (known as "Butcher" by Senusi tribesmen in Libya ) was appointed to be commander in Chief of Italian Army in Libya (mainly 10th Italian Army and 14th Italian Army) On taking up his post , Graziani was apalled to learn that he was expected to advance 300 miles into Egypt and capture Alexandria. At once he flew to Rome to plead both to Mussolini and Italian Chief of Staff Badoglio. His forces , Graziani argued would be no match for the British. He had motorised transport no more than four battalions. (considering Italian motor car production industry ,this was a disgrace) Some of the weapons at the disposal of Italians were better suited to a war suprlus dump : some cannons and rifles dating back to 19th Century and rusting machine guns. Graziani was also short of up to date equipment like planes , medium tanks , anti aircraft guns and anti tank guns and even mines. At places along Egyptian border Italian soldiers on night patrols were forced to defuse and steal British mines to sow their own minefields. But Mussolini hungered for some sort of victory in North Africa and Graziani's protests proved unavailing. Under Mussolini' pressure eventually on 13 September , 10th Italian Army with six divisions crossed the wire on Libyan-Egyptian border and to the suprise of British scout Italians some with motorised vehicles trucks and on top of light tanks but mostly on foot , marched on ordered columns on foot as if on a review they were easy to spot with dust they were creating visible miles away , sticking on coastal road mostly close to water wells , without disguising themselveswith camouflage and marching only on daytime , advanced 60 miles till small Egyptian coastal settlement at Sidi Barani which was already evacuated. Low on supplies , Graziani halted 10th Army here and 10th Army under command of General Mario Berti set up seven camps from coast to South till promised reinforcements from Italy arrived. Over next three months these outposts took on the leisurely air of peacetime cantonement , down to such refinements such as colognes , silver hairbrushes in officers quarters , engraved glasses in their clubs , tinned hams and Frascati wines at their tables. Rallying slogans from Musolini were engraved everywhere and blared from speakers "Chi se ferma e perduto" (He who hesistates lost) or "Sempre avanti" (Ever Forward)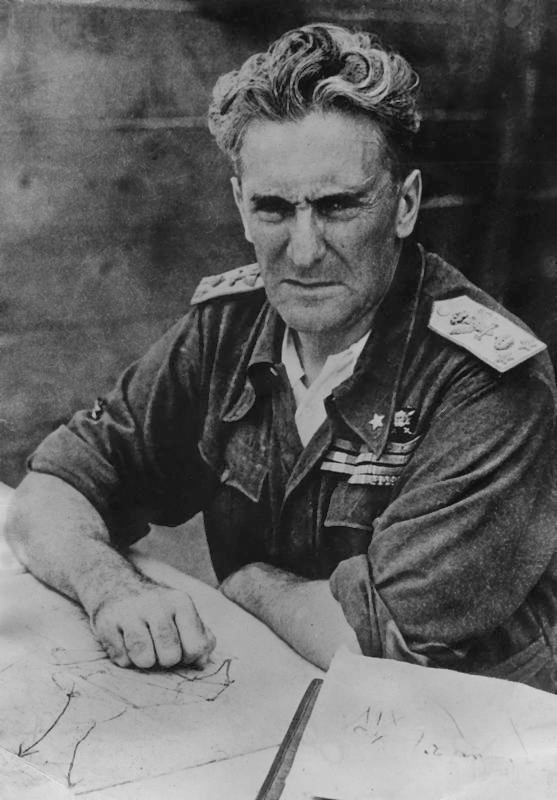 Marshal Rodolfo Graziani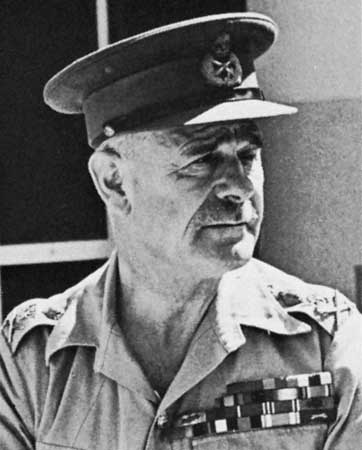 General Archibald Wavell
British forces actually retreated 80 miles east to a small fisherman village on coast called Mersa Matruh. Once known as Paraetonium where where Mark Anthony and Cleopatra swam in blue waves of Mediterranean , Mersa Matruh was terminus of a narrow gauge railway link frıom Alexandria. It gave British a huge advantage. If Italians continued their advance , their supply lines would be extended and exposed to attack , while the British close to their own sources of supply could afford to wait an appropriate moment for counter action. Here too British dug in at Mersa Matruh and prepared defensive positions with more spartan conditions and regular rations like corned beef stew and strong seeet tea under watchful eye of Western Desrt Force Commander General O'Connor. At British Middle East Headquarters Commander in Chief Middle East General Archibald Wavell also bided his time , waiting for troop reinforcements and for a shipment of I (Infantry support) Matilda tanks for his operations. Matilda was 30 tons , medium heavy for its time and its armor was inpenetrable to Italian guns (who did not have any proper anti tank guns anyway and using field artilery guns without armor piercing rounds for that purpose)
But more than weapons needed for military campaigning in this desolate land. Terrain as well as enemy presented unque challanges to each side. The Western Desert was 500 miles long and 150 miles wide. Behind a sandy plain that bordered on Mediterranean lay a igh deserrt plateu , much of its dun colored expense strewn with boulders and pebbles. Despite the havoc the stony stretches played with tank treads and truck springs , crossing the plateu was fairly easy , but getting to it was not. Between it and the coastal strip loomed an escarpment with cliffs as high as 500 feet and only a few places passable by wheeled and tracked vehicles. British could act only after making a through force and supply build up , adapt accomodate to desert then went to offensive. All British commanders in North African Campaign (Wavell , Auchinleck and Montgomery) would follow this sensible operational method unlike Italians and Germans who preferred a much more initiative taking and oppurtunistic oprastional approach. From a military standpoint the worst aspect of Western Desert was lack of distinctive landmarks. Traversing it , except along one coastal road , was like sailing an uncharted sea , navigable only by sun., stars and compass.