The Pittsburgh Press (August 10, 1943)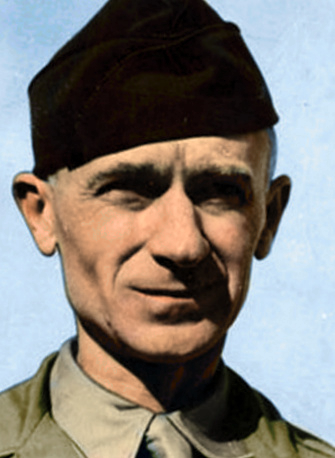 By Ernie Pyle
Somewhere in Sicily, Italy – (by wireless)
Our troops have found Sicily on the whole perhaps a little better than North Africa. Certainly, the people are just as friendly, if not more so. So, this whole thing seems kind of ridiculous, when you sit down and think about it.
Here these people are our enemies. They declared war on us. We had to come clear over here and fight them – and now that we're here, they look upon us as their friends.
If anything, their attitude is more that of a liberated people than was the case in French North Africa, and they seem to look to us more eagerly for relief from their hunger. In several of the smaller mountain towns, our troops were greeted by signs saying "Welcome," in English, pasted on the walls of buildings, and American flags were fluttering from windows.
Of course there are some Sicilians who treat us as enemies. There has been some small sabotage, such as cutting our phone wires. But on the whole, the Sicilians certainly are more for us than the Arabs of Africa were.
Sicily is really a beautiful country. Up here in the north it is all mountainous, and all but the most rugged of the mountains are covered with fields or orchards. Right now, everything is dry and burned up, as we so often see our own Midwest in dry summers. They say this is the driest summer in years.
It's like Garden of Eden
Our ceaseless convoys chew up the gravel roads, and the dust becomes suffocating, but in springtime Sicily must look like the Garden of Eden. The land is wonderfully fertile. Sicilians would not have to be poor and starving if they were capable of organizing and using their land to its fullest.
Driving over Sicily, you have a feeling of far greater antiquity than you get even from looking at the Roman ruins in North Africa. Towns sit right smack on the top of needle-point mountain peaks. They were built that way in the old days for protection. Today, a motorcar can't even get up to many of them.
The houses are of a cement-colored stone, and they blend into the mountains so that often you can't see a city at all from a few miles away.
In these mountain towns, the streets are too narrow for vehicles, the passageways are dirty, and the goat and burro are common.
In the very remotest and most ancient town, you'll find that half the people have relatives in America, and there is always somebody popping up from behind every bush or around every corner who lived for 12 years in Buffalo or 30 years in Chicago.
Yum, yum, watermelons–
Farming is still done in Biblical style. The grain-threshing season is now on, and how do you suppose they do it? Simply by tying three mules together and running them around in a small circle all day long while another fellow keeps throwing grain under their hoofs with a wooden pitchfork.
We hit Sicily in the middle of the fruit and vegetable season. The troops went for fresh tomatoes like sourdoughs going for gold in the Klondike. Tomatoes and watermelons too. I've never seen so many watermelons in my life. They are mostly small round ones, and do they taste good to an old watermelon devourer like myself! Also, we eat fresh peaches, grapes, figs and even mulberries.
At first when we hit a new town the people in their gratitude gave away their fruit to the troops. But it didn't take them long to learn, and soon they were holding out for trades of rations or other Army stuff. The people don't want money. When we ask them to work for us, they say they will but that we must pay them in merchandise, not money.
The most sought-after thing is shoes. Most of the people are going around in sandals made of old auto tires. I believe you could take two dozen pairs of G.I. shoes and buy half the island of Sicily.